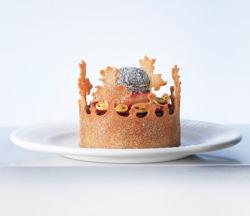 The Experimental Food Society Spectacular 2011 returns to London again this year from the 21st to the 25th of October. This year's events will be comprised of three parts: an exhibition, followed by a wild themed banquet and talk.
The ticketed daytime exhibition, held at the Truman Brewery on Friday 21 October (1.00pm -6.00pm) and Saturday 22 October (11.00am -6.00pm), is a spectacular display by Britain's most talented and pioneering gourmet artists including butter sculptors, sonic food artists, food magicians, cake artists, food futurologists, conceptual food artists and food model-makers to name a few.
Guests can also book tickets for the wild themed banquet at The Folly on Sunday 23 October (7.00pm -11.00pm) at which 160 diners will partake in a unique and surreal multi-sensory dining experience, inspired by and created with ingredients from the wild. A five-course menu designed by the Experimental Food Society in collaboration with Andrian Pseneac, Head Chef at The Folly, the banquet will be accompanied by a series of sonic experiences created by Condiment Junkie, as well as a variety of food related performances by Yum Cha Cha, Caroline Smith and the Lady Greys.
The Experimental Food Society Spectacular 2011 will culminate with a Talk at the Victoria & Albert Museum as part of the V&A Connects series titled 'The Wilderness Year' on Tuesday 25 October (6.30pm -9.30pm) at which guests will be taken through some of the works of art unveiled at the Spectacular and the processes undertaken to create them. Accompanied by video footage and photography, tickets include cake canapés and two complimentary glasses of wine.