Danielle Woodward experiences a relaxed north London supperclub that prides itself on serving fresh British seasonal food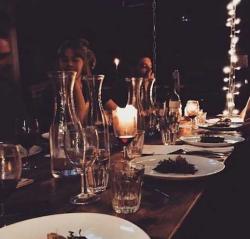 Being a latecomer to the supperclub trend, I hoped I wouldn't look like an obvious pop-up virgin; making rookie mistakes like ordering from the menu or taking in my surroundings too obviously wide-eyed.
My friend and I walked to Vagabond, location of the Croft Kitchen supperclub and a few minutes from Highbury & Islington tube station, on a sultry Friday evening to eat a menu created by Gino Tighe and James Duckworth.
We got a friendly welcome and two glasses of chilled homemade lemonade placed in front of us without us even having to ask. (At time of writing, there was no licence to serve alcohol, so it was a case of bring your own.) At 7.30pm, we were shown through to the back room and took our seats in the dining area, at the communal tables along with our fellow diners, mostly young couples and female friends deep in conversation. Low-slung fairylights cast a warm glow over the rough-round-the-edges décor, adding to the relaxed, laid-back vibe.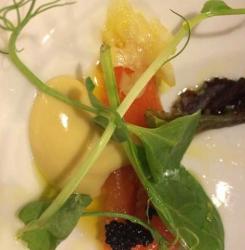 Our seven-course 'micro-seasonal British menu' began with a dish of crudités (foraged from the garden at Brockwell Park by Walthar): radishes, pickled carrot and garden peas with whipped buttermilk and basil emulsion. The mousse-like buttermilk with its slight salty tang was the ideal dip for the crunchy veg, with just enough pickle to be zesty without being overpowering. Next followed'Hackney Wild, goat butter, ash salt, mushroom dashi', and I was pleased to discover that'Hackney Wild' was a delicious sourdough bread, and not a'hipster rabbit', as my friend predicted.
The warm bread had a deep, satisfying flavour, together with the goat butter, which had an unusual note (that'll be the goat), and mushroom'dashi' – a shot glass full of warm, earthy broth, perfect to wash down the bread. Next came a small china bowl with cured trout, drizzled with rapeseed oil and a small serving of caviar, sitting in the bottom. Cured fish and sushi isn't at the top of my list – the oily texture can be a bit much for me – but I do like smoked salmon and wouldn't turn down gravadlax either, so I gave it a go. It was OK… but not one of the best dishes of the evening.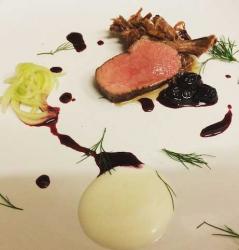 'Summer Pattison, sunflower pudding and kale' followed – I had no idea Summer Pattison was a type of squash; this one was deliciously roasted and the sunflower pudding was a smooth, earthy paste that reminded me of a savoury sesame halva, with the peppery bite of kale complementing the flavours perfectly. And it only got better after that with the arrival of 'Hogget shoulder and fillet, cucumber yogurt and blueberries' – the meat was melt-in-the-mouth tender with a rich, fruity jus and cooling dollop of yogurt providing fascinating flavour contrasts so every mouthful tasted slightly different.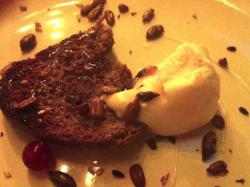 Next came St Endellion (a Cornish brie) with redcurrants and borage honey and a slice of rye bread; the cheese was mild and creamy and the sweetness of the fruit and honey worked well. Then, our palates were refreshed with a 'Gooseberry granita' – icy, sweet slush that hit the spot, then came the last dish: grilled peaches with 'peach pit cream, smoked almonds and lemon thyme' which was warming and fragrant with a bite of herby freshness from the thyme and the smoked almonds providing a pleasant crunch among the sticky peachy softness.
Feeling disappointed that my supperclub adventure had come to an end, we walked back to the tube with full bellies and that glow of smug satisfaction that only comes from enjoying a fantastic meal, prepared by those who really know their stuff.
Unfortunately, at time of writing, Croft Kitchen is now closed but returns soon. For enquiries, email hellocroftkitchen@gmail.com
Croft Kitchen, at Vagabond cafe, 107 Holloway Road, London N7 8LT