Unable to afford domestic staff and fed up with doing'the boring bits, Nick Harman sees if the new Kitchenaid Artisan Cook Processor will deliver the kind of slave labour he longs for.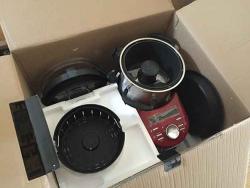 The box is big. Our front door is no smaller than average, but getting the boxed Kitchenaid Artisan Cook Processor through is like trying to manoeuvre a sofa down the stairs and it comes with the same amount of cursing and bashed knuckles. Finally we drag it as far as the end of the hall and decide to unbox it there and then rather than try and get it any further.
Five minutes later we are up to our ears in packaging but the gleaming cherry red machine is out and ready to be set up. There are blades and bowls and stirrers everywhere and with bit of an effort we get the monster up onto the sideboard, after chucking just about everything else off first.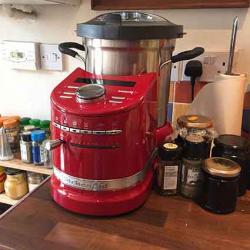 First impressions
So what it is it exactly, we wonder as we contemplate more knobs, switches and levers than a pre-digital Tardis.  Well, what isn't it really?
It can chop, it can stir, it can puree, it can steam, it can fry, it can blend, it can make dough and it can do just about anything it seems, except wash itself up.
It is in some ways similar to a Thermomix – the gadget you'll see in most professional, high end kitchens, one  that chefs employ to do all the donkey work that requires consistency and high standards, but is not in itself demanding of skill. It's basically a blender with a heating element, although that is hardly fair on its soon to be revealed awesomeness.
The best way to find out what it can do, is to do something. The machine comes with a small recipe book that makes use of the machine's six varied automatic programmes, and there is a recipe app for iOS and Android as well. So we kick off with something simple, steaming some salmon oriental style.
Steaming session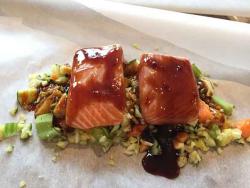 We decide the fairest way to test is to act is if we know nothing about cooking. So instead of chopping the ginger and garlic and carrots and celery ourselves, we do what the book says and lob it all in the bowl with the chop blade fitted and hit the pulse button for five seconds. Quietly and extremely quickly the veg are all chopped. These are scraped out and water added to the bowl to the stated level.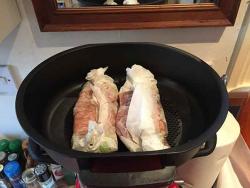 We make up parcels of salmon with the veg, add some soy sauce and a dash of water, wrap them tightly and put them in one of the steamer baskets. It is possible to have three levels of steamer basket, which is handy for large numbers of people. The steam setting is selected and this automatically sets temperature and time, then with a jaunty press of the'go' button we are able to walk away and wait for the machine to announce when dinner is ready.
It all comes out fine, the salmon well cooked and the veg al dente. The machine automatically goes into Keep Warm mode when any of the processes end so no need to rush.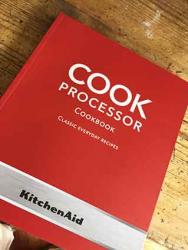 Now of course steaming is not hard to do with a saucepan of course, but you have to watch and wait for the boil, carefully adjust to get the speed of the boil right, check regularly to make sure it's not boiled dry and remember to come back at right moment. The Kitchenaid means you can walk away and do something else, and that's a big point. It's not replacing your own abilities, it's letting you use them elsewhere.
A hurried curry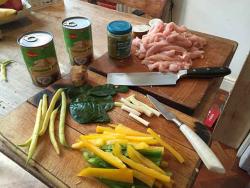 Ok so now for some Thai curry. Following again the exact recipe we chop veg with the Multiblade, then change that for the Stir Assist Paddle, add all ingredients for a programmed initial stir and heat sequence that is then followed by a programmed stew sequence with cherry tomatoes added.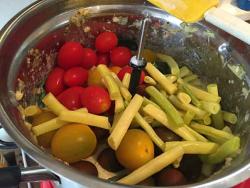 This was a great success, a pretty authentic Thai Green Chicken Curry, cooked in about 35 minutes, while we watched telly in peace. Such a success in fact that the next day we quadrupled the ingredients, the cooking bowl is very spacious, and made it again for freezing in portions. Now we have great back up meals, all frozen in vac bags so they can be reheated in boiling water, which means decent food and less washing up on a weeknight.
Pudding time
There's a recipe for rice pudding in the book and that's a dessert I've just not had enough of recently. Well for ten or more years actually.  The stirring of pudding rice, like risotto rice, is a tedious thing usually but here we just added all the ingredients and left the machine to it. Again, a very decent result but the washing up of the big bowl was difficult as the claggy pudding didn't want to budge.
Dough boys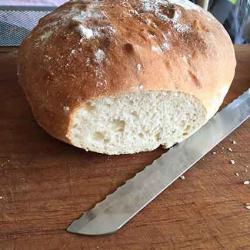 We tried bread making next. Yes the machine can make bread too, although to be accurate it does everything except bake the bread. I added flour, salt, oil, 15 g of fast action yeast to 500g flour and used the Dough Blade. Using the programme the machine kneaded up the mix in about three minutes and then went to a second stage of gently warming to cause the dough to rise. We did not touch the machine, leaving the lid down as told to do.
The result when the buzzer sounded was quite a wet dough but one which had definite elasticity and which was fairly easy to shape and place on a baking tray for ten minutes in the oven. The result looked good, was a bit over salty and could have done with more baking time but otherwise not bad.
I make a lot of bread by hand using sourdough starters and it wasn't a patch on those and I never expected it to be, but for those looking to make bread with no additives and with ease, this is impressive.
A bit of hummus
Into the big pan went dried organic fava beans, I am of the persuasion that favas make better hummus than chickpeas. Some water was added and then manually set to boil for fifteen minutes. This was a guess time-wise, but beans came out just right and again an alert sound got me back from the garden when the time was up.
Drained off, the beans went back in with the Stir Assist paddle, crushed garlic, olive oil, a good glob of tahini and instead of lemon juice my preferred pomegranate molasses, not the sweet stuff but the proper sharp/sweet kind. The machine was set to Stew P1 and left to do its stuff for the 15 mins it wanted. It used heat to cook and the paddle gently reduced the beans to a puree rather than the usual method of blitzing. This gave a very good texture, smooth but with grain and grittiness too.
Conclusion
Along with these recipes, we've used the machine as an addition to the gas hob; boiling and steaming things manually to free up space on the rings and as a basic blender and chopper. The amount of things you can get it to do seem unlimited. Sauces from béchamel to hollandaise were particularly easy to achieve successfully as were things like tapenade and beaten eggs and meringues.
The machine has become a fondly regarded part of the kitchen during the test loan period. At first we rather resented the space it required but once we realised how many things it could do, the space taken seemed more than reasonable.
All the blades go into a dedicated storage box that comes with the machine and the extra bits – the steaming baskets, lids and the smaller chop bowl and blade can all be stashed away with ease.
The set programmes are various and efficient for all kinds of things and all can be customised as far as time and temperatures are concerned. Although the machine seems daunting at first, it doesn't take long to work out how to use manual modes to get exactly the results you prefer and to experiment with.
Washing it up is easy, although we found wet sticky things like dough could get under the spindle of the blades and into the plastic cavities and were difficult to then get out.
The price? A rather heartstopping £900 approx. Set that against the price of say a laptop though, one you will be junking after three years, and it doesn't seem so bad. Plus it replaces two or three other kitchen machines in one.
It has the legendary Kitchenaid looks, build quality and powerful motor all proven over time and I doubt it will give any trouble for many many years, if ever and if it should break, or you should break it, Kitchenaid have a great reputation for servicing their machines with parts.
Foodies should not dismiss this remarkable gadget with a sneer; it's a very, very useful machine for doing all kinds of donkey work that is not creative while you do the fancy stuff. At the same time it has a place for anyone who wants to get food on the table with the least fuss and have one high quality machine to replace three or four.
The video below was created by Kitchenaid, reproduced here as information only and not as endorsement
{YOUTUBE:hOwxu29shC8}