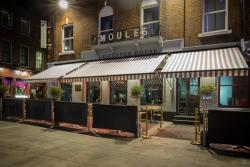 On the face of it, French and Asian fusion cuisine seems gastronomically baffling. How can those classically butter-drenched sauces meet those flashes of fire and flavour from the sun-soaked climes of South East Asia without a fight?
In truth, there are influences and culinary inflections sewn into the cultural fabric of countries like Cambodia, Vietnam and Laos that date back to colonial rule and Napoleonic occupation in the 19th Century, and little inflections have remained: a mastery of pastry, the use of French language and, possibly the most telling – the adoption of that oh so Gallic bread edifice: the baguette, or as the Vietnamese made it, the bánh mì.
When I travelled around there I lived on a daily supply of these freshly baked loaves, bought from the carts that lined up along the pavements with veritable trees of bread sticks poking out of recycled plastic bags. The baguettes would burst open with a puff of steam as the vendors tore them apart to smear each half with laughing cow cheese and squashed overripe tomatoes or slicks of slowly melting nutella or slivers of paper-thin ham and damp lettuce smothered in a greasy layer of mayonnaise and sweet chilli sauce.
So, all in all I was rather happy to be revisiting this intriguing food amalgamation when I went down to chinatown to sample the French Vietnamese menu on offer at the restaurant at Leicester House Hotel.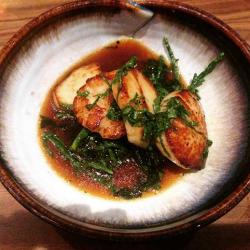 The place itself was tucked away in a discreet corner – if that's even possible around this area – that seems a world away from the mass orders of sweet and sour pork and the tourist hordes taking snaps under the faux-dynasty arching gateways that characterises this particular pocket of London. Inside, its more bafflingly seperate still with its steel blue painted panelling, high-shine parquet floors and crayon-bright red and green chairs that reminded me of the sort of  drawing room you'd find in a nouveau riche stately home.
The menu here is an intriguing mix of enticing and incredulous too, with Asian classics like blackened squid sitting uncomfortably next to riviera chic moules mariniere. And it was this thread of flavour juxtaposition that continued throughout the meal with varying degrees of success.
The thing with a menu like this is that it has to be bang on to be credible. When it was it was heaven, when it was off, even by a few degrees, it clanged.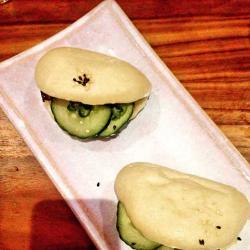 It's lucky then, that there were plenty of high notes to be found to counter those clangers. The squid in question, with its spicy coat of pepper, lime, chilli and salty samphire, was delicious; the marshmallow-soft steamed buns stuffed with crispy pork belly and pickled cucumber were lovely (after I'd scraped off the cloying chilli mayonnaise) and I found perfection in the simplest of things, namely their slaw, which is a crisp, zesty confusion of shredded green papaya, shards of daikon and nuggets of cashew in a mouth-tingling dressing.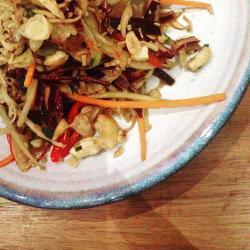 There were detours along the way though. The rich, fruity pâté covered in a golden disk of clarified butter studded with softened peppers was a lovely thing, but it came next to a pile of spiced carrot and radish salad, which was nudged to one side while I scoffed the pâté spread over toast. My tastebuds were sent packing Euro-wards again with the arrival of a huge plate of pink charcuterie only to be hauled back again with a follow up of caramelised scallops swimming happily in an Asian-infused bone (really, is there any other kind?) broth.
By the end, I was left feeling a little foodie jetlagged when the cardamom-custard stuffed doughnuts and richly spiced, bitingly bitter chocolate pot with hazelnut cha fee arrived for dessert.
All in all, eating at Leicester House occasionally felt like being smacked around the long haul departures lounge – in a pleasant way mind you, and with delicious flavours and an excellent cocktail list to soften the blows. In conclusion, if you want to take your tastebuds on an adventure without leaving the city, this is the place.