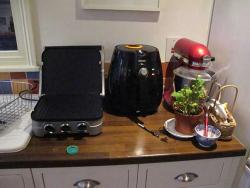 Gadgets are good, every kitchen needs gadgets. Trouble is they take up valuable kitchen space, get used too infrequently and eventually end up at the local boot sale minus, of course, their plugs.
The Cuisinart Griddle and Grill should escape that fate as it has quite a few uses: Panini maker, vegetable griller, pancake fryer, kebab sizzler and meat master being but a few.
Essentially it's two hot plates that come together like a press. The plates are both reversible – one side flat and one side ridged so you can get those lovely sear lines that make just about anything look more attractive on the plate. Used with both plates laid flat it offers a large surface area to work on, four decent sized steaks would be no problem at all. Closed it can handle two or three Panini's depending on how you make them.
Like all Cuisinart's current range of products it comes in a pseudo silver steel look with knobs that feel a little plasticky but are more robust than they seem. The overall build quality is as good as you could expect for the price, and while the metal plates, detachable for washing, are only wafer thin that means they get hot quicker
Grilled veg are popular right now. More interesting than boiled or steamed and less fattening than fried, they add a summer look to any meal creating a BBQ feel indoors any time you like. Courgettes respond especially well to grilling, it adds flavour where quite frankly, there is seldom very much to start off with. We tried French beans first, a vegetable we have a glut off thanks to an overproducing allotment.
Topped and tailed and tossed in the bare minimum of olive oil, they were clamped in the Cuisinart on high heat. Sizzling and spitting sounds soon started up and we lifted the top to scatter in some rock salt. The lid is self-levelling, so pressure is even all around and after five or so minutes the beans had cooked, We tossed them with feta cheese and a scattering of yellow and red cherry tomatoes to create a good looking salad, as the beans cooled they absorbed the dressing and were ready, lukewarm, to eat as a starter on flat bread.
While the Cuisinart is not a George Foreman style grill, it does have the same idea of a fat run off and collector. So when we slapped some steaks on the machine it was good to see the fat not hang around but drain away quickly, allowing the steaks to sizzle and not stew.
The machine needs to get hot to cook steaks; you want a seared, sugary exterior with some crunch, and the Cuisinart certainly gets hot. Very hot in fact, so hot you want to be careful around it. We occasionally found ourselves jumping back, and in my case swearing violently, when accidentally coming into contact with the metal bits. Children should be at a safe distance. We tried cooking steak on the open plates and also in'sandwich mode'.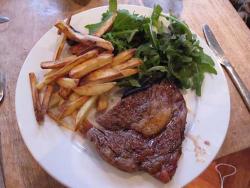 The latter was good in that it cooked the steaks much quicker, but the danger of overcooking was ever present. Better was to cook as normal by placing an unseasoned steak lightly greased with oil onto a very hot grill plate and then about a minute before turning, sprinkling it with hard rock salt. This way when you turn the steak over, most of the salt falls off but will still have done a subtle seasoning job. We learnt this trick from the grill master at Gaucho.
Kebabs of chicken and pepper cooked swiftly and well on the machine but we never got around to trying pancakes. Panini work well, there is a special setting and the cheese inside melted very satisfactorily while the bread toasted up well. As an extra cooking hand in the kitchen, the Cuisinart Griddle and Grill is a useful piece of kit, it can save time as well as washing up (the plates are dishwasher safe) and would be a good thing to give a student to augment what is, usually, an awful landlord-supplied oven.
Buy one at Amazon
More gadgets to gurgle over:
The Heston Blumenthal Tea Maker
{YOUTUBE:h-fuwJgavC0}