It's not easy juggling a pen, a notebook, a camera, a well-chilled glass of Viognier and a sample pot and spoon. But that's what I find myself doing, jostling for position at a row of chafing dishes amid my fellow curry enthusiasts at a rather different private view. Richmix in Bethnal Green is known for its offbeat cultural happenings, and tonight's event is a strong effort- with great grub to boot.
The food's not just a bonus- it's the very reason for the exhibition. Photographer Jeremy Freedman's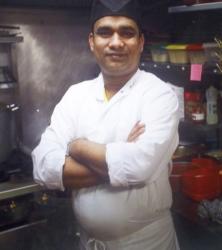 series of portraits is entitled 'The Curry Chefs of Brick Lane'- pretty much what it says on the tin. In his pictures, a dozen chefs gaze out from their kitchens- proud, defiant, shy. Unfailingly, though, each chef stands with arms firmly crossed- an unrequested quirk that Freedman himself points out. For me, this serendipitous pose only serves to weave a coherent thread through the series.
'Unseen and unsung' these 'heroes of Brick Lane's Curry Mile' may be, but they're coming firmly out of the woodwork tonight. The chefs are serving up their signature dishes, in between posing smartly alongside their portraits, handing out business cards and menus, and lapping up praise for their culinary efforts. Which, by the by, are largely excellent.
The majority of us have run the gauntlet of Brick Lane of an evening, perhaps not in the straightest of lines. And we've likely fallen foul of the 'special meal, special price' offers, or a monstrous and banal all-you-can-eat buffet, perhaps even paid an 'extra' price subsequently. And vowed never again. But tonight's event is stripped of that insalubrity, allowing punters to connect directly with the chefs- and seek out a fail-safe curry house for that next Saturday night stagger.
For me, it's the Bengali prawn khazana from Chillies that sways it. I'm enticed back for seconds,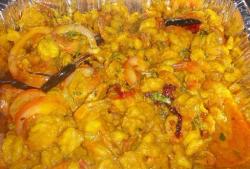 thirds, fourths- until the friendly proprietor is literally scraping the bottom of the barrel. The 'pukka' Bangladeshi and Bengali dishes are where the restaurants all score, in fact- and so they should. It's what they do best, and what diners allow them to do all too infrequently, opting instead for the vile 'mix and match' menu of chicken/prawn/lamb with 'korma'/'madras'/'vindaloo' sauce- or perhaps the unholy melting pot of the 'house special'.
And there's nothing at all 'special' about these compendiums of protein and base gravy, perhaps with a tomato or a double helping of onions thrown in for good measure. Let's face it, a Vindaloo made by a people eschewing pork was never going to taste like the dish traditionally made in Goa as a means of preserving that very meat.
Yet these approximations of vastly diverse regional dishes are commonly what 'curry house' diners expect. Bangladeshi-run restaurants face a tough choice- meet the demand or go under. But they soldier on- and there's often fine food to be had, generally tucked away in the 'Chef's Specials' or even off-menu. Shatkora dishes, perhaps, flavoured with a citrus fruit native to Sylhet, or fiery fish masalas using roai mach, elsha or rupchanda.
If all else fails, ask! It's a rare chef who doesn't want to share his craft and expertise. By the end of the night, my head is swimming, and not just from the generous glasses of wine. I've scrawled down the ingredients for Saffron's Zulen Achmed's green chicken masala, attempted to wheedle the recipe for Cinnamon's 'secret chutney' from Daras Miya, and had my palate destroyed by a whole chilli (and subsequently restored by Preem's divine mango lassi.)
As well an honest, good old fashioned knees-up, the event and exhibition provide a timely eye-opener about a long-standing community whose contributions to the day-to-day grind of East End life are often underestimated. Vibrant, colourful, just a bit spicy- all fitting epithets for that amazing prawn khazana- but also a damn fine description of the people behind the food. Keep doing what you're doing, sirs, 'cause you're doing it well.
'The Curry Chefs of Brick Lane- Photographic portraits by Jeremy Freedman' runs until Thursday 29 March at Richmix, 35-47 Bethnal Green Rd, London E1 6LA, www.richmix.org.uk
Selected restaurants will be offering people who pick up a leaflet at the exhibition 15% of their food bill for the duration of the exhibition.