The Company Shed has become somewhat of a mecca for fish-loving foodies. One of the few attractions on the otherwise rather under-serviced Mersea Island, it's a place of simple pleasures. The menu is brief, diners provide their own bread and booze, and tables are draped with gaudy vinyl covers resplendent with underwater scenes of tropical fish.
It's all positively vital to the experience- and the seafood is second to none. Seventh-generation
oysterman and outright legend Richard Haward has already explained the differences between the smaller, rounded natives and the rocks- their larger, craggier counterparts- and now plates of his oysters, resplendent in their nudity, are set before us. The natives are milder, perhaps a touch more silky, whilst their cousins are fleshier and hit just that bit harder.
At our table there's a suggestion that, rather than unintelligible technical terms, flavours should be described in terms of experiences, memories or feelings. And what I'm feeling right now is warm, soporific and a little fuzzy around the edges. I'll need to call upon that feeling later, when a bitter wind is chapping my face and my feet are replaced by blocks of ice- but I don't know this yet.
What I do know is that the flight of glasses in front of me are being generously filled with a selection of Talisker's finest wares, which I'm all too happy to sample. Guided partly by distillery expert Dr. Nick Morgan, and partly by our own palates, we sip, sniff and swirl a lively 10 year-old, the more elegant, refined 18 year-old, the '54° North' Nick describes as 'Talisker untamed', and the Distiller's Edition, given a final aging in sherry casks and consequently slightly more wine-like in character.
When it comes to spirits, I'd describe my own palate as 'discerning but uneducated'. I know what I like and I'll tell you why, but not necessarily in the way you'd expect. To me, the sherry-cask whisky reeks of green Manzanilla olives, with a salty dryness. And I won't dress it up- from the 10 year-old I'm getting pure coal-tar soap. Flying entirely by the seat of my pants, I won't pretend to feel any less than thoroughly smug when Nick agrees the nose is, in fact, distinctly medicinal.
And, following a journey taking in an emergency dash to Morrison's, endless winding country roads,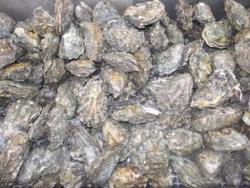 and a scenic stop at Thurrock Football Club, we could all do with a good dose. Luckily, Valentine Warner's been busy in the kitchen and his scallops liberally doused in butter and gussied up with bacon, lemon and hazelnuts alongside the whisky and oysters do very nicely indeed. Chairs are gratefully collapsed into, bread is broken and obscenely generous servings of Talisker-laced baked crab are administered as a follow-up.
Then comes roasted venison. It's a slightly incongrous choice, given the immediate proximity to a wealth of fantastic seafood, but no-one's complaining. Finally, jostling for position on a table groaning under the weight of our glasses (seven per person, at last count), an orange-caramel-encased, whisky-enriched monte bianco, well worth the effort required to break through its impenetrable carapace.
But now it's straight out onto the ocean. Apparently, sudden temperature changes shock the primeval molluscs into spawning, and, as I clamber inelegantly aboard the dredger from the tiny motorboat, I can sympathise fully. Richard's 'prodigal son' is at the helm- as a confirmed land-lubber, I'm hoping he lives up to the epithet bestowed upon him. Neon orange lifejackets may not be the most flattering attire, but I'd happily don three.
We sail out to the beds, where the 'edges' are exposed at low tide. Richard tells us these are home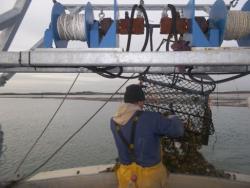 to the hardier rocks, which are more capable of tolerating extremes of temperature. The more delicate natives reside beneath, in more temperate climes. At this point, I'm considering joining them. Two 'dredges' are brought up from the beds, spilling out bounty including seaweed, baby crabs and a vast rock oyster at least 15cm long- probably 6 years old.
Whilst we shiver and whinge, father and son are as content as if it were a balmy summer's day. Bereft of gloves, hat and coat, Richard is clearly in his element. He claims he feels it more than when he were a lad, but you'd never tell by looking. Although Richard's been in the game his entire life, he lets slip that the very first time he was inclined to even try an oyster was whilst trading in France.
Since that time, he's come around to the pleasures of the briny bivalve, and happily knocks a few back- with a glass of whisky to ease their journey down his gullet. A fitting conclusion to a fishing trip, no doubt, but a scalding hot builder's brew does for me. I leave Mersea island with a vastly increased whisky knowledge and a renewed and heightened respect for the work of people like Richard and his family. But, for our little group of sometime seafarers, it's time for yo ho…home.
Find out more about Talisker at www.taliskerwhisky.com
Sample Richard's wares at The Company Shed, 129 Coast Rd, Mersea Island, Essex CO5 8PA, www.the-company-shed.co.uk, or buy online at www.richardhawardsoysters.co.uk