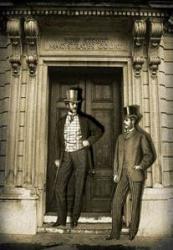 Christmas conjures up thoughts of cold nights and mulled wine .Stockings brimming with presents and carol singers. Yet the story that is synonymous with the season (apart from The Great Escape) is The Christmas Carol.
Building on the success of the tour in 2010, The Courvoisier Dickens Punch Tour this year returns on a larger scale with even more to satisfy your Christmas spirits; Running for two weeks from 23 November, guests will be taken on an interactive hour long walking tour of Dickensian London. Foodepedia was lucky enough to get a sneak preview recently, which is how I found myself outside Bow Street Magistrates Court, pulling my coat tighter against the cold.
The tour was led by Pip, who I had Great Expecations of. Suitable resplendent in tweed and beard Dickens ephemera bubbled out of him constantly. I learnt that Bow street had great significance for Dickens, featuring in many of his books. He was terrifed of debt, and this was where the debtors court was held.
Further down the street I encountered the site of his publishing press before heading off to St Clements Danes Church (whose bells are said to have woken Scrooge from his nightmare dreams). Much discussion was had about whether this was the St Clements of Oranges and Lemons fame.
The tour culminated at Dickens' personal book binders, the Old Curiosity Shop. A small rickety bulding nestled among the London School of Economics, it was here I encountered Scrooge himself. This was obviously the reformed Scrooge as he helped assemble the ingeridents for a punch popular in Dickens time, the Courvoisier Smoking Bishop punch.
I found the Smoking Bishop punch difficult to put down. Tasting like a turbo mulled wine, it was a winning winter warmer. Given that at the time of his Death Dicken's cellar contained over 200 bottles of Courvoisier, I imagine the punch was equally as popular with Dickens himself. It certainly lifted my spirits.
The Courvoisier Dickens Punch Tour will run from 23 November to 3 December, Wednesday – Saturday, 6pm and 7.30pm (1 hour duration) starting at Bow Street Magistrates' Court, Bow St, WC2. Tickets cost £12 (includes punch and guided tour) and are available to purchase from 1 November at www.courvoisier.com