I love mustard as much as the next person, but when it starts becoming anything more than a condiment or perhaps an ingredient in a sauce I get a little bit nervous. You can imagine my anxiety levels then when Michelin starred chef Claude Bosi mentioned whole grain mustard ice cream. It got worse, I thought I heard him say the word vinegar and soufflé in the same breath.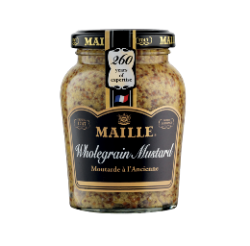 After a steadying nibble on the mustard, cheese, ham and baguette that lay before me, I settled down to watch Bosi prepare a festive feast. In cooperation with Maille, Bosi created a Christmas menu to highlight Maille's finest mustards and vinegars.
Bosi impressed his audience that day as he unveiled, albeit in an impossibly thick Lyonaise accent, his magnificent mustard-infused menu; Raw Scallops, Salsify and Mustard Sauce, Chicken, Tarragon & Wholegrain Mustard Gnocchi, Halibut with Jerusalem Artichoke, Red Wine Vinegar and Pineapple Souffle with Maille Mustard and Pineapple Sorbet.
As Bosi whirled around the high-tech kitchen, he both delegated and cursed in his mother tongue. When he couldn't locate the switch for the hob, there was a sigh of impressed understanding when the attendant bought out a little silver disc that apparently activated the shiny black, knobless cooking surface.
Hobs finally working and sauces being stired, Bosi took us on a taste journey starting with the salsify he used in the scallop starter. And in case you were wondering, no, salsify is not happens when you apply salsa (the dance or the dish), but is in fact a flowering plant from the sunflower genus.
The blanched pieces we sampled tasted like a mild parsnip, and was very nice indeed. We also tried the pickled cucumber he had made earlier, that was simply cucumber left in Maille cider vinegar overnight with some seasoning. It was amazing, tasting ever-so-slightly pickled and fresh at the same time. In no time at all, the scallop starter was passed around. Raw pieces of scallop, blanched salsify and shaved white truffle mixed in a creamy, mustard foam. Subtle and light, not always two adjectives that come to mind when you think of mustard.
The chicken, tarragon and wholegrain mustard gnocchi was fairly straight forward, if you've ever made a creamy chicken dish, you could handle this one. It's definitely worth taking a look at this recipe, for something not too far out of the realms of us mere home cooks.
We were privy to a chestnut parfait as well as the vinegar soufflé and mustard sorbet, and during the prepartion of this pudding we passed around grated, fresh chestnut and slices of perssimon that I had also never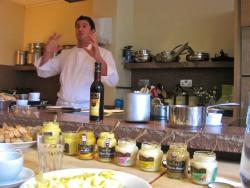 tried before.
And speaking of maiden taste voyages, we came to the part that got me intrigued, red wine vinegar soufflé and mustard ice cream. Ok, so there's some pineapple in there too, but that does not detract from the fact that we were about watch Bosi take something traditionally piquant and essentially savoury and transform it into a sweet delight. To make the soufflé he used a red wine vinegar reduction that tasted like balsamic vinegar times ten. His prowess with the soufflé was a thing to behold and how we cheered when his soufflé rose, just as it should. And really why shouldn't it when you consider who he is. Bosi says a successful soufflé is all about the crème patisserie. If you get that bit right, you'll be fine.
The sorbet was made with potato, pineapple, sugar and wholegrain mustard. Doesn't really make my mouth water, but when we tasted the dessert is was really quite spectacular the way he used these everyday condiments to create a very gourmet dessert experience.
Bosi's gift of imagination really took the Maille products into a world of culinary delight. He was concerned that his menu was easy enough for us 'housewives' to handle. I would have kicked him in the shins if he had not been such a cool guy, and I knew what he meant, bless his heart. But I think did aim a little high. Us home cooks are capable of wonderful things but perhaps all of the dishes in one meal might be asking a little too much.
If you're going to attempt anything other than the chicken dish, I would invite a very experience chef-type friend over and tackle it together. Failing that, crack out the Maille, cheese, ham and bread and make yourself some very classy sandwiches.
Take a look at the Maiile recipes, created by Claude Bosi.
Maille Mustards, sauces and mayonaise www.maille.co.uk