These recipes were created especially for premium mustard maker Maille by Claude Bosi, the two Michelin star chef at Hibiscus. Photos by Paul Winch Furness

Chicken, Tarragon & Wholegrain Mustard Gnocchi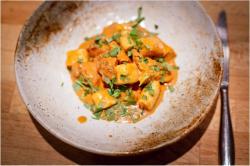 Serves 4
Ingredients:
Chicken
1 x Free Range Chicken
150g Butter
1 Onion
3 Shallots
2 sprigs fresh tarragon
3 cloves garlic
3 carrots
100g Maille Sherry Vinegar
300g Chicken stock
1 tbsp Tomato Puree
500g Flour
1 tsp Maille Wholegrain Mustard
500g Whipping Cream
80g Chopped Tomatoes
Gnocchi
600g Potatoes
2 Egg Yolks
50g Maille Wholegrain mustard
Method

Chicken
Cut the chicken into 6 pieces and season. Heat large pan on hob and place chicken in with butter
Cut the carrots, onions and shallots into big pieces. Add to the pot
Add 2 sprigs of tarragon and vinegar in the pot. Cover and cook at 180°C, after 15 minutes rotate the chicken pieces (remove the breasts if cooked)
After another 15 minutes, remove the chicken from the pot, and keep them warm to one side. Remove the fat from the pan and add a dash of vinegar to deglaze. Then add the chicken stock and reduce.
While it's reducing, mix the mustard, flour, tomato paste together in a bowl. Add this and the cream to the pot and reduce
Add the chicken back to the sauce with some chopped tarragon and chopped tomato reduction.
Gnocchi
Peel the potatoes, boil in a pan, pass into a drum sieve once cooked and allow to cool
In a pan mash the potatoes then add flour and egg yolks and mix well. Season with 50g wholegrain mustard and a pinch of salt
Roll the mixture into small sausages shape then cut into smaller pieces about 1.5cm long
Cook in simmering water until they rise to the top of the pan. Drain, season and serve with chicken
Red Wine Vinegar and Pineapple Souffle with Maille Mustard and Pineapple Sorbet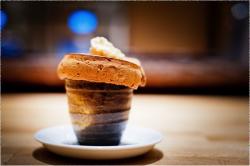 Serves 6
Ingredients:
Soufflé
6 pasteurized egg whites
5g egg white powder
150g sugar
300g crème pâtisserie
½ pineapple diced
Crème Patisserie
425g milk
75g sugar
5 egg yolks
50g flour
70g vinegar reduction
Sorbet
1 litre pineapple puree
500g cooked potatoes
150g sugar
100g Maille wholegrain mustard
Method
Crème Patisserie
Mix the egg yolks, sugar and flour together
In a pan mix the vinegar and sugar then reduce until you reach a syrupy consistency
In another pan bring the milk to the boil. Pour the vinegar and milk onto the egg mixture and whisk vigorously
Return mixture to saucepan and cook, stirring continuously, until it boils then set aside to cool
Sorbet
Boil the puree and sugar. Blitz with the cooked potatoes and wholegrain mustard and store in a plastic container to freeze overnight in fridge
Souffle
Brush the inside of each soufflé dish with butter
Whisk together the pasteurized egg whites, egg white powder and sugar until they reach soft peaks then whisk in 300g of crème pat
Tip mixture into the 6 soufflé moulds, filling to half depth. Put one tsp of