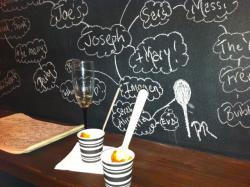 If my place at Maria Elia's book launch were to be visualised in mind map fashion, I would be represented in the far corner of the page, in a squiggly bubble with the following captions, 'Are there more drinks coming?' and 'those pureed parsnips were delightful' with further arrows pointing to the words 'awkward' and 'hungry'. I enjoyed the launch party by stuffing my face with canapés and attempting a covert stashing of my left-over dishes and glasses in the corner, so no one would see my shame.
Apparently it's all about mind-maps with Maria Elia. Her special brand of scribblings on a napkin at a wedding she catered caught the eye of her publisher. I like the whole mind map visualisation. There are squiggles, hearts and arrows and the images depict nicely the vibrant chaos of a creative mind.
Maria's mind maps feature in her new cookbook, Full of Flavour. Create…how to think like a chef , they were also on the black board that welcomed us as we entered Joe's in South Kensington, the site of the book launch and were undoubtedly the inspiration for the evening's celebrations.
Delicacies displayed in a variety of little paper cups, ceramic bowls and sardine tins were handed out on trays throughout the night. Worth noting were the fresh and very zesty Pomelo & Lime Leaf Salad with Nam Jim dressing. I also enjoyed the Truffled Parsnip Salad and the Butternut Squash Falafels, all of which can be found in Elia's new recipe book.
Known to possess a flair for flavour, Elia's latest book gives an insight in to her creative thought processes and teaches the reader how to think like a chef. Full of Flavour is based around eighteen of Elia's favourite ingredients including lamb, aubergine, chocolate and stone fruit. With over 100 recipes and lots of tips and ideas this book will help you to improvise in the kitchen like a chef.
Despite the fact that I did not know anyone at the launch, I ended up having a lovely time. Our waitress promised she would not let me leave the party without getting drunk and while I didn't actively participate, my plus and I did enjoy the convivial ambience of Joe's. Elia positively glowed in the warmth of supportive friends and family.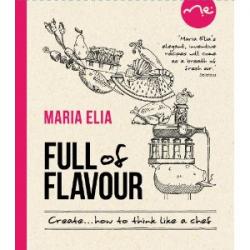 Full of Flavour is a lovely book. With a simple, easy to read layout and photo after glorious photo of Elia's renowned meals. It's one of those books you like to look at as much as you like to actually use it. With charming illustrations by Kath Harding and a funky, vibrant design concept this recipe book is part manual, part coffee table book.
Some of the recipes I will most certainly be trying this winter are the Italian Sausage, red wine, chestnut and cabbage risotto, the Cosy lamb meatballs with peas and tomato sauce, the Smoked Aubergine, tomato and red lentil soup and I am sure I will spend this Saturday night eating at least two serves of Elia's Cinnamon chocolate cakes with sherry-soaked raisins and spiked crème fraiche.
One of the features most indicative of Elia's attitude toward cooking is the blank pages at the back of the book. These lined pages titled 'My experiments' are coupled with notes of Elia's own cooking experiments and are designed to encourage the reader to actively participate in the cooking process. Mind maps are just the start of the journey. Elia is all about the bounty of creativity and spontaneity and Full of Flavour is Elia's way of encouraging the budding home cook to spread their wings and create like a chef!
{ISBN:0857830066}