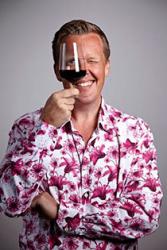 I'm gutted at the lack of knowledge amongst my friends of Olly Smith. Granted it's not the most obscure of names and quite a few thought I was either talking about a rugby player or some toff that went to my stuck-up private school. However, mentioning that he's the eccentric wine-guy on Saturday Kitchen who pops out of supermarket aisles recommending reasonably priced wines does jog the memory 
'Eccentric' is definitely the word to describe Olly. He brings a sort of Toad of Toad Hall energy to his role of Master of Ceremonies. I completely understand that some may look at the event and consider it to be more opera than rock concert, but it's actually more like a black-tie awards-show hosted by a character from Rocky Horror.
Do not be alarmed, there are no overweight middle-aged men in thongs or grannies with bits hanging out and the dress code is not black-tie. The evening is rife with sophistication from start to finish. You'll get the posh frills of a champagne reception and you'll dine in a lavishly decorated room. The added bonus is the arrogance and pretentiousness have been sucked out of the proceedings and replaced with an underlying buzz of electricity and fun.
Olly's stories are great to listen to; did you even realise he wrote for Wallace & Gromit? Bet you like him more now, don't you? That's the sort of character he is, with a "Huzza!" lurking around the corner of every finishing sentence. He even offered-up a hi-five to me mid-speech, first time that's been done to me in a long while. I'm usually the one to throw up my fat five-fingered bad-boy to the unsuspecting; he really won me over with that.
I ought to talk about the food, but if you buy tickets to one of the upcoming dinners, (and you really ought to, it's that much fun), then chances are the menu and wines will be different. So, rather than tell you what you wont be eating, I'll touch on some outstanding dishes and help alleviate any fears that it's simply another hotel chain without the restaurant standard food. 
We had a trio of salmon for starters, (smoked, gravlax and tartar), which managed to showcase rather than show-off the cooking skill of the kitchen. Then followed a pave of roast cod with mussel, leek and shellfish velouté. They clearly know how to put together fish courses at Hotel du Vin. The simplicity of suitable seasoning with the salmon is commendable, whilst the precise cooking of the moist cod backed up by a rich accompanying sauce was excellent. Thumbs up.
The Main couse was a heavier offering of lamb rump with dauphinoise potatoes, haricot vert and red wine jus. Yep, things really start to pick up when the red meat and vino hit the table. Until this point Olly's paired beautifully crisp and sweet white wines to the fish courses, but this delicately soft yet deeply rich lamb deserved a full-bodied red. It's a really cracking piece of cooking from Hotel du Vin and the wine invites you to slump a little in your chair and enjoy the entertaining Olly.
You're not only going to get a dessert at the dinner evenings, you'll get a cheese course too. What's more, you'll receive two separate wine pairings to both, happy days. A vanilla crème brûlée is a particular favourite of mine and there's no complaints with Hotel du Vin's offering; plus the cheese-selection is nicely assembled with the creamy blue being particularly nice. Sweet dessert wine and port to polish you off before carriages.
Is the evening worth the money? Yes, absolutely. I had no idea how much fun Olly was going to make learning about the selected wines. His stories are worth listening to, his demonstrations with audience members are funny and the food and drink supplied by Hotel du Vin is top notch. A cracking evening. Huzza indeed.