America's favorite holiday, Thanksgiving, is here once again! The strange thing about it is that like most English girls bought up on a diet of pop culture and laugh tracks, I know the story of America's first turkey-laden feast better than the average third grader. The idea of pilgrims and native Americans sharing a big ole' bird of tastiness fills me with a kind of holiday cheer that makes me want to marathon Friends specials (no English trifles, please) and pardon turkeys like my name was Barack Obama.
That said, cranberry sauce and turkey roasting sure is a lot of effort for anyone, whether they be a certified Yank or not. London, being one of the most welcoming cities in the world and home to thousands of Americans, is probably one of the best places in the world to celebrate, and we've got the scoop (mashed and sweet potato, of course) on where's best to party like a pilgrim this November 28th.
Apples, Peaches, Pumpkin Pie
If you find yourself on what is possibly the most British road in Britain on Thanksgiving, pop in to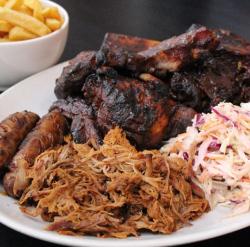 The Big Easy (no, not New Orleans,) on the King's Road. Available all day on November 28th the restaurant, bar and crabshack will be offering a three-course feast filled with all the trappings of a traditional Thanksgiving meal. Start with either lobster and butternut squash soup or traditional Caesar salad before preparing yourselves for the star of the show: farm-raised herb roasted turkey stuffed with bacon and leek and served with all the trimmings. As the restaurant specialises in Louisiana-style grub, expect Southern cornbread, green bean casserole, creamy macaroni and cheese, angel biscuits and mashed sweet potato topped with pecans. The whole meal is rounded off with bourbon gravy and Grandma Emma's spirited apple and cranberry chutney. To really indulge, finish off with the three layer red velvet cake or homemade pumpkin pie.  
If you prefer your lunch a little more liquid, try a Pumpkin Martini, Apple and Cinnamon Margarita or stick to tradition with Egg Nogg or Black Fig Sidecar, all priced around £7.95. If those have you dancing in the aisles, from 8:30pm there's a live band on – I only hope they remember this oft-forgotten Thanksgiving-style classic.
Bodeans
Bodean's BBQ, London's best known smokehouse, will be celebrating with a 3 course feast of Turkey and Ham with all the trimmings. Get your Freddy Quimby on with some clam chowder (how very Cape Cod of you), a selection of quesadillas to start, or a sharing platter with turkey, glazed ham and cornbread stuffing for 2 as the main course. Priced at £22.95 the feast will be available all day in all four branches complete with coverage of
the NFL Thanksgiving games to add to the American flavour. In the lead up to the celebrations Bodean's will also be stocking Brooklyn Brewery Pumpkin Ale in all branches – God bless America!
Christopher's Covent Garden
American bars in London; is there anything more transatlantically stylish than that? Head over to Covent Garden grill Christopher's for their famed holiday menu, which is one of their busiest all year. At £48 per person, the set menu offers the likes of 'Grand Central' Oyster Pan Roast, slow-cooked Ballotine of Organic Turkey, and classic Pumpkin Pie. If you're short for time, Christopher's is offering a non-stop service on the day itself (28th November, mark your calendar if you haven't already!) from 12:00pm to 11:30pm.
A Joe Allen Thanksgiving
In Theatreland this TG and fancy a sitting in a brasserie chock full of West End stars who at any moment might start belting out Turkey Lurkey Time from Promises, Promises? Me too.
On the big day, Joe Allen, the American grill/brasserie/post-show pick-me-up will be serving a traditional Thanksgiving spread priced at £40 per person. The menu includes Pulled Pork and Duck Terrine with Spiced Plum and Sour Dough, Sussex Bronze slow-cooked Turkey and Maple Bacon Bangers, Pumpkin Pie and Marinated Cherries and coffee and petit fours to finish.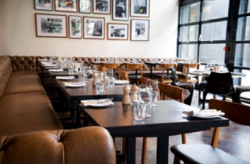 London Wall Bar & Kitchen
In the City or doing business with a Wolf of Wall Street? London Wall Bar & Kitchen have a well-priced set menu at £25, with a main event Pecan & Maple Stuffed Turkey and Orange & Cranberry Jelly. Side dishes include Sweet potato mash, Brussel sprouts with crispy pancetta and Cornbread.
The Blues Kitchen
Go north to the Deep South at Camden chomp-house The Blues Kitchen , who plan on having more bourbon at their Thanksgiving Feast  than there is in Kentucky. With a bar chock full of rare bourbons and rye (over 100 varieties), this year's drinks special will be pumpkin ale. Stay, dance off calories and show off your fancy footwork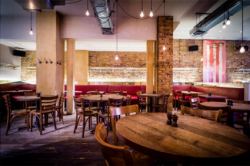 with live music throughout the evening from The Untouchables from 7pm and DJs till late.
A Hollywood Thanksgiving 
Hooray for Hollywood! If you've got the kids with you or fancy a kitsch-as-they-come celebrating of all things 90210, head to Planet Hollywood, chow down on authentic American with a Thanksgiving menu from new Executive Head Chef Andy Young and gawp at memorabilia in the James Bond room. The value, two dishes for £14.95 and three for £19.95, is pretty outstanding, and it seems fitting to honour America's favourite holiday in a place that celebrates America's favourite exports.
Californian Wines at The Lockhart
American specialists The Lockhart present their Thanksgiving menu with a little help from their friends at Wines of California – that's right, a slap up turkey menu complemented by the best grapes this side of Death Valley.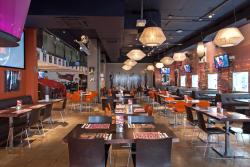 Starting on turkey day itself and running until the start of advent season on December 1st, diners can take home a small recipe book containing tips on how to replicate the dinner at home and suggestions on what Cali wines go best with what dish. The Thanksgiving menu is priced at £60 per person and includes wines, or £45 not including wines.
Quintessentially Californian wines like Gnarly Head Viognier will be matched with starters such as Texas Caviar (black eyed peas pickled jalapenos), or you can try the Smoked Heritage Turkey served with cranberry sauce and paired with Gnarly Head Pinot Noir.  The Thanksgiving menu includes starters to share, two main courses – including Maple glazed ham and two desserts; Pecan pie with maple bourbon ice cream and the classic Pumpkin pie served with vanilla whipped cream. California Feastin'!