Donald Russell Toad in the Hole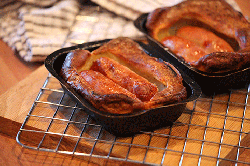 It's funny how toad in the hole is rarely served in restaurants, not even in those ironic ones that spring up now and then in London. The combination of porky sausage and puffy crispy batter is a winner every time, especially when partnered with plenty of gravy and lots of mashed potato. Making it home, which is where most of us eat it,  isn't hard but batter can be a bit of a bugger, either getting too lively and rising up to engulf the sausages like an eggy amoeba, or playing dead and becoming a soggy Axminster around the burnt bangers.
Donald Russell who have done a good job before in simplifying standard dishes and delivering quality meat to the doorstep, haven't let themselves down with their Toad in the Hole offering. Two double sausage servings in trays for £8 is £4 a meal for two, which is a bit pricey but not that expensive when you consider the sausage quality and the time saved.
We were dubious that they could possibly cook all that well from frozen but were proved wrong. The batter rose to the occasion perfectly, cushioning the sausages (which are apparently sous-vide precooked so only needed to be browned) and becoming airy and crispy at the top and puddingy and comforting at the bottom in around 40 minutes.
The sausages were pure pork, so no nasty residues polluted the batter, and they were well seasoned and flavoured too. All in all, just as good as home-made and when it comes to Toad, that's about as good as it gets.
Donald Russell Mini Lamb Leg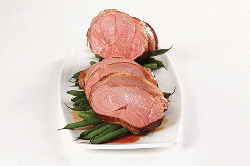 Lamb can be a let down and it's not cheap. What happened to all that low price frozen lamb from New Zealand that we once all ate to keep the Kiwi economy alive? We were often told that there were more sheep than people in NZ and if we didn't eat them (the sheep) as fast as we could, they'd take over. Maybe they have and that's why every mobile Kiwi under 25 is now in London droning on and on about coffee?
A leg of lamb is still a wonderful thing of course, but you need a crowd to eat it all up; lambs aren't as small as we suppose from watching Countryfile, so these Mini Lamb Legs (boneless) are handy for couples and small families. At this size, overcooking is all too easy but the meat comes with a clear and accurate guide to temperature and time. In our case we chose the slow method – around eight minutes searing on the stove and then about 90 minutes at 80C in the oven. This produced a nice pink colour throughout, which is how lamb has to be served of course or else thrown away.
Flavour, despite the absence of bone, was very good and sweet, with the texture unaffected by the freezing. We ate it for Sunday lunch stacked in slices against a pile of golden, garlicky Dauphinoise potatoes and plenty of simple frozen peas. Not a scrap of lamb was left, indeed one child was quite upset that there was no more, so make that two adults and just one small child for optimum family satisfaction and less strife.
You can find all Mr Russell's massive range of meat at