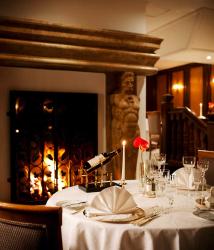 More rockstars and actors have stayed in this five-star hotel than you can shake a glass of Becherovka at. The proof hangs on its café's Wall of Fame: Rows of signed portraits documenting the hotel's long-held appeal for Hollywood greats when performing in Prague. No z-listers here, just big guns, from the Rolling Stones to actors of Jeremy Irons and Uma Thurman's ilk, and a gamut of stars of the Silver Screen decades before them – Drawn no doubt to the hotel's enviable position near the Opera House and Prague's old town.
They're also, I suspect, grateful for the discreet, sombre-lit privacy of the wood-panelled Gourmet Club restaurant next door, where they can sample authentic Czech cuisine and fine wines, without paying through the nose. All the while bantering with the multilingual, charmingly loopy Maitre d'Hotel, Miroslav Hudek (he can be forgiven having worked at the hotel for the best part of 30 years).
The top table to book is number 7, for its romantic log-fire location. Behind the fireplace, up some steps, is a private dining platform. Presumably where large groups and celebrities like to dine without being ogled at or overheard.
Our three-course lunch menu started promisingly with a chilled glass of Sect. That was until a light Beef Broth with Liver Dumplings arrived (to put this into context, liver dumplings were beginning to ooze from my pores by day three in Prague), served with fine noodles and shreds of carrot. This popular Czech starter is often followed by a roast meat main. But the quality and consistency can vary, and given the choice I preferred the more fulsome, less earthy version served at sister boutique hotel, Le Palais, a charming Belle Epoque property in the southern area of Prague 2.
To be fair, I've never been a fan of broth, or soups in general for that matter (a pre-meal filler that makes me sweat and/or splatter down my top). But given that it was snowing outside, it was at least warming and suitably low-cal and high in protein if you happen to be a celebrity. To follow came a show-stopping main course of Steamed Pikeperch with a satisfyingly crispy roasted crust, subtley smoked mashed potatoes (our end of the table was trying to figure out how), with cinnamon-infused sugarsnaps and radishes whose rustic rootiness was offset by a tangy pop of sweet'dried blue grapes' – much more succulent than your average raisin.
A tarragon jus oozed dreamily from this meaty white hunk of fish precariously perched on a squidgey lozenge of paprika-orange mousse. The gourmet Frenchman seated next to me was in raptures: "Mais this is déeelicieux! Taste the smokiness after a seep of dat wine," he exclaimed as Miroslav twirled around our table, obligingly topping up our glasses with a crisp Moravian Grauburgunder 2010.
The dessert menu caused mild consternation as I realized that the walnut in the'Walnut and apple pie in a hot apricot sauce' could well make my throat itch. Miroslav took off to the kitchens to ask Czech Executive Chef Josef Brda for an alternative. But looking along our long table at these succulent pastries, I decided that the possibility of an itchy throat would be a small price to pay, so I hastily cancelled my replacement. So glad I did: The walnut was subtle so there was no itching at all (except for more) and the apricot citrusy but not tart, just as the gods designed it.
Our meal was rounded off with a fortifying café with frothy hot milk, which powered us into and around the formidable Mucha Museum literally opposite. We may not have been celebrities, but were certainly served like VIPs at the Gourmet Club. That said, peering at the other diners as we left, I was gratified to note that everyone is treated the same under Miroslav's charismatic watch. Not bad for well under £50 a head.