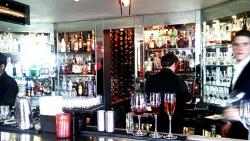 Millennium Bridge causes a lot of neck strain in the capital. Crossing over to the southern bank of the Thames is the Tate Modern; heading over to the City is the staggering stature of St. Paul's Cathedral. Awing as these two sites may be, their locales are pitiful and barren: banks in one district and derelict apartment-hotels that resemble a post-apocalyptic Dubai in the other. 
Going unsurprisingly unnoticed is restaurant Northbank. A cursory glance would deceive passersby that this is one of the City's many faux-fancy venues. In reality, the Northbank's fine dining experience is thoroughly Cornish. Appropriately sharing a segment of the River (on opposite sides) with the Globe Theatre, Northbank has a quaint character and promising, provincial-sounding menu.
The crabs are couriered from the owner from the Cornish coast. His dog Veronica wanders freely around as if in a traditional country pub. Even more impressive among the duck ravioli and pickled cauliflowers that accompanying a Hog's Pudding is the dizzying range of spirits stocked behind the bar. The pride of the fermented wonderland is Mead, courtesy of The Cornish Mead Company. Medieval tipple of choice, Mead is honey transformed into a sweet sipping drink.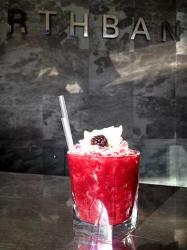 Being one of the few Mead-stockists in London (mead incidentally isn't even made in any London brewery) the relationship between the family-run brewers and Northbank has birthed Mead Mondays, beginning the 22nd of April. At Mead Mondays, guests can try a Mead cocktail and small plate for £10. Cocktails complement the Meads fruity composition with mixes including Honey Mead Rise – a refreshing drink with Wyborowa Vodka, Riesling, Lemon and Thyme; other drinks include a Cherry Caipirinha. As the weather finally begins to relent and allow outside recreation, the outside terrace is a perfect spot to sup a variety of mead based drinks.
Nestled between the overarching St. Paul's, the Shard, Tate and legendary Globe, the Northbank is undiscovered, but certainly shouldn't be overshadowed. 
Northbank 1 St Paul's Church Yard, London EC4V 3QH.