Unit 5, Cowcross St, London EC1M 6DU, 020 7250 3336, www.lazybones.uk.com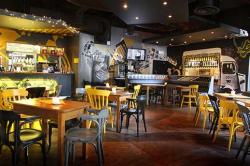 It isn't difficult to cook a hot dog, is it? Empty tin or jar of frankfurters into a pan, heat, and then stuff them into a soft, white bun along with some fried onions. But that hasn't stopped Londoners clamouring to visit the American diners cropping up in'hip' areas of the city. Meat Liquor, Dirty Burger and Tramshed have led the way, offering gourmet fast food in a funky setting.  Now meet new kid on the block: Lazybones.
Hidden down a side alley in Farringdon, with the same grey frontage as the adjacent sport's bar, first impressions didn't exactly wow us but once inside we were transported to an achingly cool venue. Zany graphic prints on the walls, yellow paint splashed down the stairs as though kicked over by someone in a rage and bottles of Dixie and Lone Star behind the bar made us feel like we'd stumbled into a teenager's bedroom. A cool teen, that is. We're talking James Dean, not Justin Bieber.
Staff wore low-slung jeans and designer stubble, Indie music blared out of speakers, and Who framed Roger Rabbit played silently on a TV. The bar was backlit with letter tiles spelling out the cocktail menu – including Espresso Martinis and Old Fashioned Maple – like film titles on the front of a vintage cinema.
And, as I sipped the Espresso Martini, with its velvety foam, rich coffee flavour and a generous slug of booze, I was a captive audience. Only the promise of a star-studded cast of American dishes:  beef brisket, hot dogs, chicken wings and popcorn could distract me.
I couldn't help thinking it was a shame that Lazybones didn't serve milkshakes or burgers (they're missing a trick) but the child in me was soon won over by the DIY popcorn. We were given a large paper bag of the fluffy stuff and instructed to visit the popcorn seller (a hand-painted picture on the wall that sports scary, light-up eyes). Underneath was a tray of different seasonings: Hot and Spicy, Ranch, Jalapeno, Cheddar Cheese and Cheese and Chive.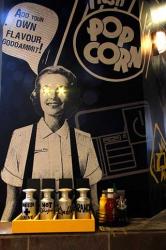 Foolishly, we got a bit over-excited and added the seasonings into different corners of the bag so we probably used too much and were left with more salt than popcorn. Even so, I found the flavours too strong, salty and a little artificial. The idea was a corker though and in a Dragon's Den moment we animatedly discussed how great it would be if there were DIY sweet seasonings like cinnamon sugar, toffee, or white chocolate. You heard it here first.
A few tweaks would've turned our supporting actress of a meal into a showstopper.  More of the tangy Monterey cheese would've helped the smothered fries live up to their name. And the fact that the pulled pork and slaw sandwich was cold was a crying shame as it was delicious – crusty bread, succulent ale-soaked pork, chunky red cabbage, fennel and celeriac coleslaw.
The two-day marinated chicken wings were the size of giants' hands and came in an array of sticky, delicate flavours – spicy, extra hot and BBQ. My favourite was the delicately-flavoured mild ginger, honey, coriander and lime marinade. The rich, blue cheese sauce which was paired with the spicy wings was a highlight. Be warned that if you do eat the ones with the spicy, tomato sauce, you'll look like you've committed a murder. It took five napkins to get my hands clean!
On the whole, Lazybones was reasonably priced (at around £8 for the pulled pork, £4 for a large popcorn and £7 a cocktail) but I couldn't help feeling the New York hot dog (with onion sauce, sauerkraut and American mustard) was a bit steep at £6 given that it lacked oomph.
Lazybones is a cool venue, without being pretentious, and a great place to kick back and relax with your mates. We were served quickly (within fifteen minutes) and though, like our popcorn, the food was a mixed bag a few adjustments and this cinema-style diner will be fit for a Hollywood star.