Labouring the point somewhat, The Cinnamon Club has devised a new menu designed to nurture expectant mothers like the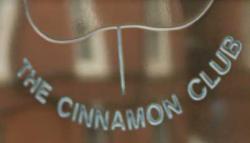 Duchess of Cornwall herself. From July, the'Royal Labour of Love' will be offered at the Vivek Singh venue fittingly fit for a queen (and future king). With their ingredients, Chefs Vivek and Rakesh are aiming to nourish mothers-to-be; curb cravings – although hopefully not for a spot of their fine Indian fare; and even induce labour. Sounds messy.
The invite may say'bring a bump', but fathers are invited to the feast, too. Courses are named for the stages of pregnancy – Expecting; 9 Months; Overdue; and Special Delivery. There's even an inter-course break factored in – although probably more likely to involve sorbet than the kind that got you into your current state in the first place. This is one occasion that it's perfectly acceptable to be a'pushy customer' – should the fiery Rajasthani lamb main 'get the ball rolling', your reward is an annual free dinner.
The'Royal Labour of Love' menu costs £45pp and is available from July at The Cinnamon Club, The Old Westminster Library, 30-32 Great Smith St, SW1P 3BU, www.cinnamonclub.com