The first of our Easter features sees the Wine & Spirit Education Trust give us the low-down on what to drink with our food at Easter.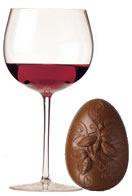 When it comes to Easter, most of us know exactly what to put on the table with regards to food. When it comes to pairing these foods with wine, however, not everyone knows where to start. 
Just in time for Easter, The Wine & Spirit Education Trust (WSET) explains how the main tastes in your food change your wine:
Salty food
…can be a great friend to wine – making it taste richer, less acidic, and softening mouth-drying tannins. Choose a big, bold red wine alongside your roast.
Choose: Cabernet Sauvignon based wines like those from the Médoc in Bordeaux work well. Warmer climate equivalents such as South African or Australian Cabernet Sauvignons work well too, especially if you prefer riper fruits.
Fish
Try to match the intensity of the fish's flavour with your wine.
Choose: Flavoursome aromatic whites like Sauvignon Blanc from Marlborough or Chile to match smoked salmon. Wines from cooler regions such as Chablis for white fish such as grilled sea bass.
Sweet food
…can make a dry wine taste bitter, less fruity and less flavoursome, so you can easily remove the personality from your drink by overwhelming it with sweet food.
Choose: Something fizzy with a bit of sweetness and a hint of honey when eating hot cross buns – like a sparkling demi-sec ('half-dry') from Vouvray to complement the sweet spiciness of the buns.
Chocolate and wine
We would all love for two of our favourite treats to make the perfect match but sadly that is rarely the case. Lydia Harrison AIWS, Tutor at WSET's flagship London Wine & Spirit School explains:
"Every palate is different but in general there are very few wines that perfectly pair with chocolate. As chocolate melts, it coats your mouth in sugar which can mask the fruity flavours of your chosen wine, leaving it tasting bitter. If you really do not want to miss out on a wine and chocolate pairing, try chocolates with a high cocoa content with sweet fortified wine such as a Ruby or Tawny Port."
Visit the WSET website for more information on wine and food pairing.