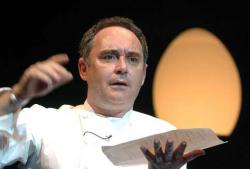 It's a crisp, clear October day in London and there's a mounting sense of excitement at Centre Stage of the 21st Restaurant Show in the Earls Court 2 exhibition centre. It's standing room only for Restaurant magazine editor Paul Wootton's live interview with Ferran Adria. Despite his worldwide fame, the superstar chef of the critically acclaimed cutting edge elbulli restaurant elbulli near Barcelona isn't likely to be popping up on the Jonathan Ross show any time soon (partly because Adria's English is practically non-existent) so its a rare opportunity to hear the man speak.
At 1.00pm, Wootton, Adria and his translator take their places on three high stools and Wootton gives Adria the obligatory big build up; three Michelin stars since 1997, number one in the S. Pelligrino World's 50 Best Restaurant list for the last four years, listed as one of the hundred most influential people in the world by Time magazine. He then asks his first question, something about Adria's ambition to invent a new culinary language and how close he is to achieving it. Adria starts talking. When he stops twenty five minutes later, he hasn't even come close to giving a coherent answer.
Instead we get a ponderous diatribe about timelines, no doubt prompted by the colourful display charting the main events of the last 21 years of the British restaurant industry that greeted visitors to the show. Adria is extremely keen for us to know the precise year he first served a foam (1994; the first version was apparently based on a consommé and inspired by the froth on the top of a glass of orange juice) and the moment in 1998 when he invented hot jelly.
There is nothing remotely conversational about Adria's style; this is not an interview but an oration.
He declaims and proclaims, peppering his address with numerous rhetorical questions. Its becomes quite obvious that nothing is going to stop the freight train delivery, and Wootton has no choice but to sit back and hope that Adria finally manages to make a point.
The final twenty minutes or so of the interview are far more satisfactory. Having firmly established who's the molecular gastronomy daddy, Adria seems to relax a little and becomes more responsive. He talks about the challenges of moving the restaurant's six month opening period from April to October to June to December; how he closed the restaurant on 25 August and opened again the next day with a new menu featuring the late autumn produce he hasn't had the opportunity to use in twenty five years.
He describes with obvious glee a new dish served in a brandy glass that smells of Armagnac but tastes of quail that comes with a chocolate leaf, its veins formed from a pate of the quail's offal.
This is the Adria I'd hoped to see; the inventive, mischievous and eternally curious cook. Instead, what we got for the most part was the paranoid genius, looking over his shoulder at his legion of followers and imitators, worried that they might be stealing some of the glory that is rightfully his.
It's the Adria that feverishly catalogues his dishes in a series of outlandishly expensive cookery books, and in a forthcoming 10 hour-long DVD which he says will show the truth of what goes on at elbulli. It's the Adria that used his appearance at the Identita Golose congress in Milan in February this year to vent his feelings about what he sees as the media's obsession with his early innovations and its apparent ignorance of more recent, subtle creations like chervil tea. If Adria were a rock star, he'd be complaining that audiences only come to hear his big hit, and disappear to the bar during his 20 minute jazz rock opera.
The paranoia is not totally without foundation of course. German food writer Jörg Zipprick claims in his new book The Unappetising Underside of Molecular Cooking that the 'colorants, gelling agents, emulsifiers, acidifiers and taste enhancers that Adria has introduced massively into his dishes to obtain extraordinary textures, tastes and sensations do not have a neutral impact on health". Its a view echoed by Spanish three Michelin starred chef Santi Santamaria, who has also criticised Adria's use of chemicals in his cooking and went as far as accusing him of poisoning diners.
But the critical voices are few and far between. Adria is more likely to be viewed as an Escoffier for the 21st century, the fountain head of all modern gastronomy. For the time being at least, there's plenty of evidence to support that claim; his influence is written all over the menus of many of the world's best restaurants.
However, its far too early to judge how profound and lasting that influence will be and if it adds up to anything more than a bag of very clever, technically brilliant culinary tricks. Yet Adria, with his bludgeoning speeches and €120 coffee table books seems hell bent on carving himself out a place in gastronomic history, perhaps before time has the opportunity to render him simply outdated.
© Andy Lynes October 2009