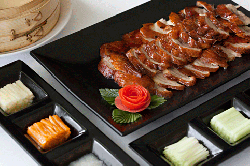 How do you handle chopsticks without giving offence? Well by not sticking them up your nose for one thing, but at Min Jiang Catherine Jones finds out some of the subtler points.
If you were in London for Chinese New Year earlier this month you would've been in for a treat. The crowd was in high spirits as a googly-eyed dragon weaved across the cobbles underneath a curtain of red and gold lanterns, almond-eyed beauties in blinged-up crowns danced to the twang of a zither and the air was thick with the smell of chilli and garlic. 2013, the year of the snake, promises achievement and innovation but you don't have to stay in China Town if you're after authentic but adventurous Chinese food.
I've been invited along with seven other journalists to Min Jiang, the restaurant at the Kensington Garden Hotel, to sample traditional Chinese fare and learn Eastern etiquette. Expert Huan Gao wastes no time in telling us not to leave our chopsticks jutting out of the bowl during our meal.
"It's the height of rudeness," she explains, leading us into the bamboo-clad dining room. "And the eldest or most respected member of the party should always be served first." Those two rules are the least of my problems – a disabled seal has better chopstick skills than me.
While the hotel's exterior is nothing special – a grey-stone 1960s-style concrete block – the restaurant on the tenth floor is tastefully decorated with Rothko-style canvases, red candles, blue and white ceramic pots and the symbols for the three most important Chinese dynasties – Miang, Jiang and Chiang – adorning the walls. Best of all is the panoramic view of Hyde Park and the Thames from the floor to ceiling glass windows.
Only the cocktail menu can distract me. As well as classic cocktails and martinis infused with lychee or passion fruit, there's a choice of six champagne cocktails so I choose an Oriental Fizz. Refreshing vanilla vodka and lychee juice dance on my tastebuds and I can't wait to get started on the food.
The restaurant is named after the river that runs through south-west China in the Szechuan province but the menu consists of food from Szechuan, Canton and Beijing.  The dumplings we have are from the Canton region so they're filled with shrimp and minced pork.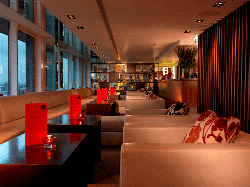 One bite of the jade and pumpkin pillows and there's an explosion of minced scallops, prawns, mushrooms, water chestnuts and chilli.  They're so crispy they almost taste battered but Huan Gao explains that the texture is the result of the fried chilli and garlic.
And as we wax lyrical, Huan Gao grins:'Wait until you try the duck.'
Beijing Duck is a twist on the better known Peking Duck. It's served with sugar that caramelises on the hot, crispy skin and is a speciality at Min Jiang. In fact, it's taken so seriously that there are three specialist duck chefs at the hotel. It's sourced from the not-so-exotic wilds of Ireland, and is stuffed with a glucose solution, apples and nutmeg and dried for 48 hours until the skin, which becomes crispy, separates from the meat which retains its moistness.
"If we were at a traditional Chinese banquet, the chef would cut the duck in front of you," Huan Gao explains. "He'd cut the skin from the neck of the duck first as that's the crispiest bit."
We layer pancakes with the duck, white radish marinated in orange juice, mashed garlic and cabbage pickled with chilli. It's a medley of tart, rich, sweet and pungent flavours but the crispy skin is the highlight. It may have taken ten minutes for the hotel's chefs to make each pancake but it takes less than ten seconds to devour it.
Chinese food's always served tapas-style so alongside our Beijing duck we have Sampei chicken – tender morsels cooked with dried chilli and onion and decorated with fried rice vermicelli that looks like sugarcraft – and sticky honey and ginger infused beef with black chilli.
The meat from the duck carcass is minced up and served with rice, peppers and onions on a lettuce leaf and we finish off with a meaty black cod with tangy, Sa Cha sauce made from Brill, shrimp and aromatic spices, and verdant-green Chinese vegetables tossed lightly in garlic sauce.
The restaurant's key ingredient is chilli and the chef gets through a two kilo bag of the hot stuff each day. He buys the veg on Tuesday and Thursday as that's when Chinese supplies for all of London's restaurants arrive. So if you want a particularly fresh Chinese meal, go on a Tuesday or Thursday.
Huan Gao tells us that in China, sweets are usually eaten before dinner (that's my kind of rule) but today we have them after our meal. A black sesame dumpling that's the consistency of gnocchi and encrusted with crushed peanuts hasn't much flavour but is pleasant and a crispy egg pancake is filled with red bean paste that strangely tastes of cherries. We end the evening by toasting the meal with Moutai, a fruity grain spirit that at 53 per cent alcohol and knocks your breath away.
A meal at Min Jiang will set you back around £45 but it's well worth it thanks to a spectacular view, classy décor, to-die-for cocktails and the best crispy duck you'll ever taste. All that's left is to say cheers the Chinese way – Campai!
Min Jiang, Royal Garden Hotel, 2-24 Kensington High Street, London, W8 4PT, 0207 361 1988, www.minjiang.co.uk