'Everyone dabbles in'exotic' ingredients,' Cyrus Todiwala states,'But no-one's quite managing to fine tune their approach'. And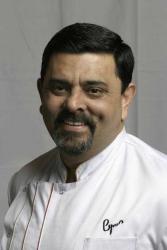 that's just the issue that the formidable chef is hoping to address, throwing his full weight behind the Asian Junior Chefs Challenge. The competition seeks home-grown talent to nurture as the turmeric-bright future of the Asian food industry – worth a cool £3bn to the British economy.
Cyrus is hoping the contest will ultimately elevate Indian food to be held in the same serious regard as European'haute cuisine'. Although he undoubtedly supports the basic Asian food training offered by'Curry Colleges', this is a big step up, requiring the student chefs to think holistically about their food. Menus must focus on, and factor in, sustainability and provenance, as well as tasting pretty darn good. Sauce traceable right back to the source, you might say.
This is not about fusion, Cyrus stresses. Teams must display a commitment to discovering the heritage of classical Indian dishes, demonstrating to judges from The Master Chefs of Great Britain a solid understanding of the influences of geography, culture, and religion on their chosen menus. With the top prize a whizz-bang trip to India, there should be no shortage of young chefs showing Cyrus just how finely they can tune their fodder.
For more information on the Asian Junior Chefs Challenge, visit The Master Chefs of Great Britain website. Entries are open to all college students who have UK residency, and the deadline for entry is 12th June 2013.