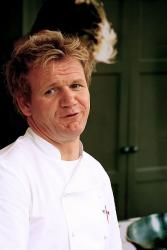 I clawed my way along a dark, slippery Camden alley towards fluorescent rays blinking through frosted glass doors. Disorientated by a board marked 'Market Kitchen', I squinted at my map, hastily printed from the internet with no black ink, then gave up and asked a bulky member of staff, was Gordon Ramsay swearing within? Vexed by my interruption to his buffet manoeuvres (the spread evoked the underworld feast in Pan's Labyrinth) he gave a cursory nod, and plunged tongs into roast beef slithers.
I'd received the call five hours before, whilst sipping a silken cappuccino in a cosy booth at Monmouth Coffee. In a tone of faux enthusiasm, not unlike a psychiatric nurse coaching a geriatric simpleton, the rep from über TV company, Optomen, advised me to 'get into a Tux and be part of the final!' He had, it transpired, got my details from a well-meaning friend, already on set. I agreed, only to receive the recall, 'sorry, Douglas, diner numbers have harmonised – although things might change!' More used to placing TVs on standby, I had inadvertently become a standby for TV. As the day wore on, rep recorded voicemails promising possibility. About three hours later, a spare seat transpired. Presumably plied by atrocious, anonymously-packaged booze, diners were dropping? Sensing my exasperation, he craftily spoke to my inner dipsomaniac. 'Get yourself down here! You'll be sitting at the VIP table – unlimited Champagne!' That turned out to be the biggest lie of 2009.
I was whisked up a fire escape onto the hot, operating theatre bright set. En-route to the VIP table, which it transpired was so-called 'because Gordon can't come here', I clocked at least a dozen familiar faces – food writers, editors and the minds behind the Real Food Festival. There was, and would be never be, Champagne, Cava, nor even a dribble of effervescent Perry. Garrotted by bow ties, fellow diners looked forlorn, having passed five hours already with no more sustenance than an overly critiqued starter. Squatting in front of me, the ginger-spiked chicken's leg remants, decorated with teeth marks had apparently tasted 'rather good.'
Before I had the chance to inspect Gordon's new chin, I was scooped by the rep, made to sign pre-TX confidentiality and release forms (in case I opened my mouth for anything other than consumption) and deposited nearer the tediously evolving action. Brought in to give symmetry to a table which had mysteriously lost its fourth guest (hushed rumours suggested she'd been 'taken ill' – hardly inspiring confidence) I took in my companions. To the left, looking like a healthier, more gracefully maturing version of Giles Coren, was Essex gastro-pub chef, Mark Baumain. To my right, the genuinely-named Holly Aurelius Haddock – youngest member of the Circle of Food Writers and Editor of Flavour Magazine. She would later challenge me to an arm wrestle (and I would back down).
The aim of the game: to rate a selection of dishes from two 'local' restaurants, however defined. We would pay a modest contribution to charity for what we enjoyed and damn the rest. Considering Ramsay had the casting vote, it was a largely irrelevant duty, designed only to give the glammed-up magazine show some tension. Rather than compare, we received only one restaurant's dish at a time, leading to plate envy.
The cook-off pitched Jay Scrimshaw's thatched Fenland pub 'The Pheasant' at Keystone, apparently popular 'with shooters' , against Birmingham's 'first' modern Indian, 'Lasan' (Aktar Islam). Finalists were simmered from 18 publically-nominated venues delivering dinner for fewer than £25/head across nine categories (British, French, Italian, Indian, Chinese, Spanish, Thai, Americas and Rest of the World).
Reared (as all meat in the programme) by journalist, Janet Street Porter, Islam's Massala Dexter beef displayed a lightness of touch. Tenderly cooked papaya, ginger and mustard marinated, pink-centered rump nudged discreetly curried pumpkin lounging a green cardamom rich sauce. Although I must agree with Baumain that the slew had the aesthetic appeal of puréed 'baby poo', it was a satisfying feed.
Entirely more ambitious, Scrimshaw rather literally put his 'heart and soul' onto the plate, masochistically preparing beef three ways: blubbery rib, slowly-desiccated shoulder blade and perhaps controversially for many, latex-like heart. Despite Ramsay's summation, emphasised with the tick of a banging fist, that it was a great 'chef's dish', the cool medley jolted by pickled cabbage was so unpleasurable that our table wouldn't pay.
Neighbouring guests, including Sabrina Ghayour, were cleared to the basement to make way for a brief recording of Porter's appraisal of her livestock. Clad in a sort of leopard spotted leotard – mutton dressed as mutton – the televised show suggested she dined in our midst for the whole debacle. Providing some punctuation, and almost interrupting the shoot, a paralytic Portuguese chap was simultanesously dragged away by two black-shirted heavies. His parting gesture to Ramsay? -A request for fellatio.
Onto dessert and the promise of escape, Scrimshaw's sprawling Tarte Tatin – 'a take on the apple pie' looked imposing, but it turned out to be a bumpkin of a dish. Oily, with sodden pastry, watery apples and a persistent iodine-smelly, burnt butterscotch aftertaste, it made me wince. The clumsy nipple of surgically-scented vanilla ice cream was only a partial savour.
After being made to clap for an off-site celebrity (whose VT was never shoe-horned in), it was time to reveal the overall scores, to a drum(stick) roll. With 61/100, The Pheasant was bridesmaid versus the victorious Lasan's, with 70. It was the right verdict, and despite an infatuation with Scrimshaw's crowded main, Ramsay sided with the audience.
With that, us weary folk were herded into a spare studio to give subs for slops. It was close to midnight and raining.
Click here for Aktar Islam's Massala Beef with Curried Pumpkin.