50 Frith Street, Soho, London W1D4SQ www.moolis.com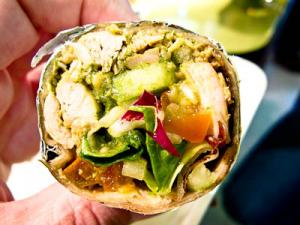 I'm not normally one for eating with my hands; I like to think I've evolved beyond that point even if I do live in SW16. Street food though is another matter and Mooli's in Frith Street (yes I know the apostrophe's wrong but that's the way they like it) make well-filled wraps you only get in your mouth by getting them in a stranglehold first.
Street food in England is different to street food in Far Eastern Countries of course. Over there it's a deeply spicy, freshly made and very tasty snack. Over here it's a trail of fried chicken bones leading up to an empty cardboard box in the gutter. Mooli's, needless to say, is the former not the latter.
Only a few months old, and just a few doors down from Barrafina where the higher paid denizens of Soho like to lunch, this place is unashamedly aimed at a younger, less affluent, but none the less clued up crowd. There are a few chairs and tables, but most people will be eating out with their takeaway, especially at lunchtime.
Not us though, I hate eating at my desk so we laboriously clamber up onto stools designed for healthier, fitter people and order the entire menu. Not as greedy as it sounds as there are just five wraps on the menu and they can all be ordered as smaller sizes.
First though a mango and ginger yoghurt drink which is so thick I get a hernia sucking at the straw but which is also quite delicious. That drunk/eaten we turn to the soup of the day, broccoli, lentil and dill. This is superb, as good as any top line restaurant, the broccoli perfectly al dente and the lentils creamy but still with core texture. The chef here used to work at Benares and so that explains his soup skills.
The wraps are now rolling out. Paneer Mooli is lightly spiced and crunchy with freshly grated carrot and mixed salad. The bread, always freshly baked each day so it doesn't have the chewiness of pre baked stuff, is good too. The whole thing is a bit lukewarm going on cold, though, and this is a complaint we make about all the moolis. If they are lukewarm after travelling a few feet from kitchen to table, what are they going to be like when carried back to an office?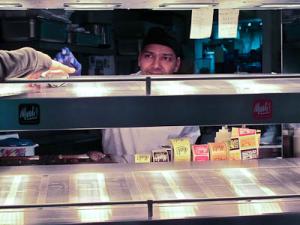 The Beef Mooli has braised beef so it doesn't put up a fight when you bite into it, just demurely melts away. The cucumber and coconut offsets the spices well, possibly just nudging the spice to the sideline. It's subtle.
On to the Pork Mooli, a bit of a vindaloo this one using the correct spicing of vinegar marinade as invented by the Portugese. It's got the chilli heat missing in the previous moolis and some of the sauce boisterously runs down my sleeves. The pomegranate salsa is interesting, but personally I find the seeds annoying as they stick in my cavities.
Subtly spiced as advertised, the Chicken Mooli has crunchy apple inside, which is great, as well as coriander and mint chutney. I long for a dusting of fresh green chilli inside, but as this is authentic who I am to complain?
Finally and gloriously, asparagus, potato and tamarind mooli. This is the best of all, the spices and yoghurt brilliant, the soft potato and crunchy asparagus just perfect. Vegetarians rejoice, here is a snack you can really savour.
So Mooli's – great wraps, honest and healthy and fresh. Could be served hotter both in cooking and spice terms, but then to be fair it was actually snowing outside when we ate them. The décor is a bit like a suburban health centre, cold and rather heartless, but then most people will be in and out before they notice that. Probably easier for the young team to clean, too.
It's a good concept in the right place. It would work wherever the Facebook generation type, tweet and play, Hoxton should be the natural next choice I would think. Best of all it's around the corner from us. I'll be going back for some more of that soup for sure as well as the veggie wrap.