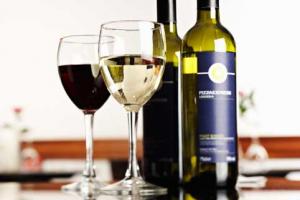 We don't normally talk about the big restaurant chains on FP but I do have a soft spot for Pizza Express. All their restaurants are friendly and welcoming and during the 1980s you could always find me night and day in Kettner's, their flagship Soho place where an old chap would sing off key as we young admen gorged on our American Hots. God knows why they have since turned Kettner's into a crap French eatery designed by an ex-bordello madam; I can't see the logic myself
Anyway, here's the Express jumping on the New Year guilt train now calling at all stops until Easter. Their new Leggera pizzas are made as normal and then the centre dough is taken out and replaced with salad. This makes them around 500 calories each and with less than 5g saturated fat. Nice
And because it's the wine that delivers the calories you don't count on, Pizza Express have also covered that, too.
Leggera wine has been especially and uniquely developed by Pizza Express to have lower calories as well as lower alcohol. 25% less calories and 25% less sugar so a 175 ml glass is 87 calories. The Leggera Pinot Bianco is 9% alcohol and the Leggera Sangiovese is 9.5% ABV. The secret behind their reduced calories and lower alcohol content lies in the early harvesting of the grapes, while sugar levels are still low. The Leggera Sangiovese meanwhile is blended with super-ripe Sicilian Merlot to fill out the fruit profile.
For me the Sangiovese was a little 'watery', a little lacking in body, yet a nice drink all the same which amply washed down the Legera pizzas. What it mostly meant was we could eat our pizzas, drink a whole bottle of wine at lunchtime and not only get back up the stairs to the office with a clear head but also a clear conscience.
Lunch for me is always going to be a meal that doesn't involve going back to the office afterwards; otherwise I'll get a sandwich and stay in. This though hits the spot; a hot meal in pleasant surroundings and wine that doesn't knock you out.
Well done Pizza Express, now sort out Kettner's will you please?
There are four pizzas in the Leggera range –
– Contadina – torn chicken breast withspinach, fresh red peppers and creamy fior di latte mozzarella, finished with asplash of Tabasco.
– The Margherita Leggera is topped with fiordilatte mozzarella, marinated santos tomatoes and fresh basil.
– The Gustosa, which is Italian for tasty, brings together hand torn prosciutto cotto ham with slices of Portobello mushroom,sweet yellow pepper, fior di latte mozzarella and fresh thyme to give it a bit of a kick. A meaty pizza that's still light.
– A vegetarian feast,the Vitabella, meaning 'goodlife' in Italian, is topped with asparagus spears, mixed chargrilled vegetables and red and yellow pepperson a base of tomato source and fior di latte mozzarella. It's superhealthy and counts as one of your five a day.