To celebrate the very best of the season's produce the social enterprise restaurant is hosting another Farmers' Markets on Saturday 24th March. The team at Fifteen Cornwall is delighted that cornishfoodmarket.co.uk, specialists in delivering locally produced food and drink to Cornish homes, has come on board to sponsor and support the event.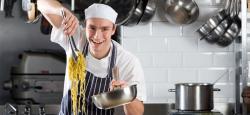 Fifteen Cornwall's hugely talented local suppliers will be on show so you can try first-hand the great food and produce Fifteen Cornwall uses in its own kitchen. You can also meet the team behind cornishfoodmarket.co.uk to learn more about their great delivery service.
And there's more…
If there's one thing the team at Fifteen Cornwall know a lot about, it's how to make perfect pasta. Cooking Italian-inspired food is at the heart of everything they do and if you've ever tried their Mafaldine alla bolognaise or Tortellini of English pea and ham hock, you'll know what we mean!
So here's your chance to learn the tricks of the trade with Fifteen Cornwall's NEW pasta-making workshops. Priced at £20 and launching at the Spring Farmers' Market, Head Chef Andy Appleton and his team of chefs will be showing off their pasta-making skills.
Learn how to make the perfect pasta dough, how to flavour and fill pasta and how to create all the different fiddly pasta shapes. You will be taught the difference between pappardelle, ravioli and farfalle (and, most importantly, how to pronounce them). If you'd like to become a pasta perfectionist then simply sign up for a course; contact 01637 861000 or visit www.fifteencornwall.co.uk/pasta-making.htm.
What else is there to see?
Thanks to Cornwall's mild climate, the county harvests 365 days a year – so expect to find everything from spring vegetables, seasonal Cornish fish, local meat and a wealth of artisan foods. Your shopping bags will be brimming with gastronomic treats.
Andy will be demonstrating the latest Fifteen Cornwall dishes and explaining how to get the most out of the excellent produce on sale, as well as other local guest chefs – including:
· Matt Corner from The View, Whitsand Bay
· Dale McIntosh from Bustophers, Truro
· Jack Stein fromThe Seafood Restaurant, Padstow
Robert Hocking from Buttervilla will also be giving visitors a Spring planting demonstration – so you can learn how to grow some of this delicious produce in your own back garden.
The team at Fifteen Cornwall is also delighted to be welcoming La Credenza, suppliers of the restaurant's Italian speciality produce.
And don't forget to say hello to the Fifteen Cornwall apprentices – because after all, this is what Fifteen Cornwall is all about; transforming the lives of young people from Cornwall who are in need of a second chance, and helping them to become successful chefs of the future.
What if I live out of Cornwall?
Why not make a weekend of it? With daily, direct flights into Newquay airport, there is no excuse. Just make sure you have enough space in your bags for all the treats you'll want to take home with you.
Sean Willams, MD at cornishfoodmarket.co.uk, talks about his decision to work with Fifteen Cornwall: 'It is a pleasure to be part of an event like this. It allows consumers both from in and outside of Cornwall to experience the very best that the county has to offer.
'Fifteen Cornwall shares our passions and aspirations in terms of creating a 'virtuous circle' of economic and social benefit to people connected with the food sector here in Cornwall. They have done a fantastic job, since they launched 6 years ago, in promoting efficient local supplier networks and creating opportunities both through direct employment in their business and, by pursuing the 'buy fresh buy local' ideal.
'cornishfoodmarket.co.uk's underlying philosophy is perfectly aligned with those of Fifteen Cornwall's, given that our basic motivation in creating our business has been to re-establish the link between local food production and local food consumption here in Cornwall – making it easy for food shoppers to follow their instincts and buy fresh locally produced food.
The Fifteen Cornwall Spring Farmers' Market will take place in the Extreme Academy car park in front of the restaurant at Watergate Bay. Entry is free and there is ample car parking space.