Did you know? Hundreds of Stiltons were used to create a replica of Cleopatra's needle at the 1878 Islington Dairy Show. Queen Victoria liked it so much, she bought the whole thing! Celebrate the Diamond Jubilee Bank Holiday weekend with this new Celebration cheesecake, cut cheese collections and shopping bag from Royal Cheesemonger Paxton & Whitfield.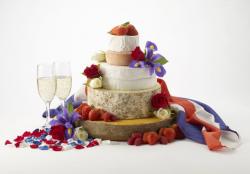 The new Fit for a Queen Celebration Cheesecake features five artisan cheeses from the British Isles and Ireland brought together for this unique festival. It reflects the heritage and up to date influence of our current Monarch, her family and celebrates areas in the British Isles associated with them. If the cheesecake is a little too large for your needs then there are two different sized Fit for a Queen cut cheese collections featuring the same cheeses used in the cheesecake. There's also a new picnic pack and a new canvas shopper to help celebrate. So if you are entertaining at home or attending a street party over the Jubilee weekend, there's definitely something to help you celebrate in style.
Fit for a Queen Celebration Cheesecake (£265.00/serves 120 people) – created by Paxton's cheese experts, this cake features some of the best examples of traditional and modern artisan cheeses from the British Isles and Ireland.
Auld Lochnagar (Unpasteurised, traditional rennet) (Approx. 3kg) Made at a dairy located close to the Royal Family's Scottish holiday home, Balmoral Estate on Royal Deeside, this is a hard, Cheddar-style cow's milk cheese. Its cheesemakers intended that its delicious creamy texture mimics the smooth Western slopes of the nearby mountains whilst the sharp acidity and aftertaste reflect the jagged edges of the Eastern cliffs of nearby Lochnagar – hence its name.
Stilton (Pasteurised, traditional rennet) (Approx. 3.5kg) Made in Nottinghamshire, the cheesemakers are now using traditional rennet, hand ladling the curds and allowing the Stilton a longer period of maturation. This is a gentle method of production that helps to retain moisture and fat. The result is an exceptionally soft and buttery cheese that retains the distinctive flavour of one of the nation's best-loved cheeses.

Wigmore (Thermised /vegetarian rennet) (2 cheeses/Approx. 1.6kg) Made in Berkshire, the Royal County and home of Windsor Castle one of Her Majesty the Queen's favourite residences, this ewe's milk cheese has a soft rind and a mixture of flavours running from grass and herbs through to flowers and nuts.
Golden Cenarth (Pasteurised, vegetarian rennet) (4 cheeses/Approx. 1kg) An award-winning round, soft, washed rind cheese with a tasty buttery flavour and a springy, supple texture. Made in West Wales, all the milk used to make it is organic, GM-free cow's milk sourced from local farms. The skin of the cheese has a light orange colour that comes from the brine wash that it's given early in its maturing process.
Gortnamona – (Pasteurised, vegetarian rennet) (4 cheeses/Approx. 0.76kg) This is a soft mould ripened goat's cheese made in Tipperary. Ireland is renowned for its lush green fields and clean air and this is true of the pasture that the goats graze on to produce the milk to make this cheese. The cheese has a fresh clean flavour with a creamy texture. Gortnamona is an old Irish word that means 'Bog Fiend'!*
Paxton & Whitfield has supplied the Monarchs of Great Britain for over 160 years with the finest artisan cheese and food products. All the items are available from Paxton & Whitfield's three shops: Jermyn Street in London, Bath and Stratford upon Avon, as well as online at www.paxtonandwhitfield.co.uk.