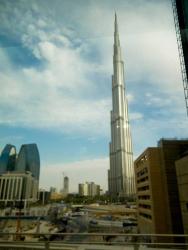 The world's tallest building Burj Khalifa looms out of the dawn haze as we descend to Dubai Airport. A needle seemingly designed by Charles Adams after a night on the hemlock it's 829.84 m (2723 ft) high, still stunning even when surrounded by a forest of buildings themselves almost as tall. When Dubai does things there are never any half measures, it has to be the very best.
So it's no wonder that Sofitel have chosen to host one of their global Stars Food & Art events at Sofitel Dubai Jumeirah Beach in an ever expanding city where supercars and super rich are ten a penny and nothing seems to be impossible, not when you apparently have all the money in the world to spend and not much to spend it on.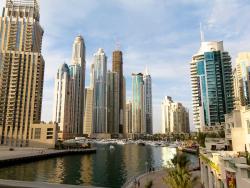 Tonight in this city, now apparently over its recent economic woes and bad press, seven star chefs with twelve Michelin Stars between them, including our own Cyrus Todiwala from Cafe Spice Namaste, have been lured in to create one course each for a meal under the night sky. This will be served around Sofitel Jumeirah's pool by the beach and accompanied by a flight of wines.
It won't be cheap, but Stars Food & Art is not about the everyday and the extraordinary tends to be expensive. Most of us have by now eaten tasting menus with matching wines, but few I suspect have eaten one prepared by seven star chefs all at once.The initiative was taken by the management of Hotel Sofitel the Grand Amsterdam and Lise Goeman Borgesius, author and food journalist, and has grown to be a yearly event across countries and continents.The premise is promising.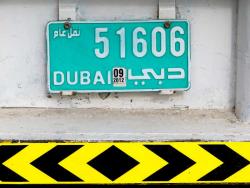 Dumping bags in the luxurious room I will sadly see too little of, and ignoring the blandishments of the big bed, I go downstairs to find Cyrus in the Sofitel kitchen. As usual he is sublimely cheerful, despite a punishing schedule that saw him appearing on Saturday Kitchen just a few days earlier.
In another corner of the giant space his fellow star chefs are busy signing the ornate souvenir menus that each guest will receive at the end of the night, quite a job when there are over 200 to get through. The chefs come from all countries but talk in various versions of French and the atmosphere is one of fun and banter before the serious job of prepping up for the evening begins. Some have already been in the kitchen for days; marinating, sous-viding and getting to grips with the layout and staff.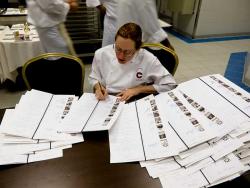 Claire Clark ex of French Laundry is here, she will of course be creating the dessert. She tells me she is looking to open a restaurant in London soon, once she finds the right location and the right chef. She misses the French Laundry and the California produce and sun but craves fresh challenges. Her determined assault on the menu signing mountain suggests she won't rest until she has that perfect place in London.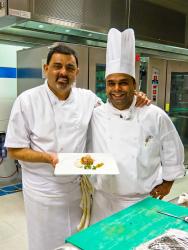 Cyrus calls me over to one of the stoves, he has his rice almost ready and asks me to taste. It's very good and enthused he plates up a sample of the complete dish he will serve tonight; 'Duck tikka a la Mrs Matthew'. He pushes elements around to get the best visual effect and happy with the result he surrenders to the kitchen staff's pleas to pose for a photo with them. His wife looks on with a grin, Cyrus's bonhomie is infectious.
With time to spare before the evening, I catch the spanking new overhead metro to reach the centre of Old Dubai. A local food blogger, iliveinafryingpan.has kindly volunteered to show me the other side of eating in Dubai, a world away from Michelin stars but just as eclectic and just as tasty in its own way. It's certainly less expensive and so we eat a little something in lots of small places.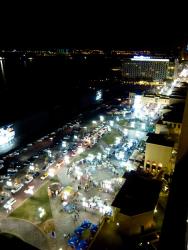 Back at Sofitel Jumeirah Beach I can peer over my balcony of my Luxury Room facing onto the white sand and azure sea and spy on the pool area being made ready for the reception and dinner. A grand piano has been wheeled in for the entertainment and somewhere 15 floors below the chefs are presumably going into overdrive.
As darkness slowly falls, the local rich kids start their own drive, the nightly ritual parade of dad-bought supercars up and down the corniche, a mile-long promenade with 200 shops, cafes and restaurants. The guttural bark of tuned V8s and V12s with no particular place to go can be heard as they rev up showily. It's a Jeremy Clarkson wet dream out there tonight and every night.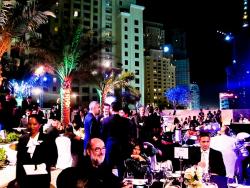 The reception before dinner is what you'd expect, a bit glam. Just as at other Food Stars and Art events worldwide, the great and the good of the city have come out to eat, along with dedicated foodies. Dubai is of course a 'dry' country in the alcohol sense of the word, but the hotels are allowed to serve drink in non-public areas and so champagne is on tap along with canapés from the hotel's Executive Chef.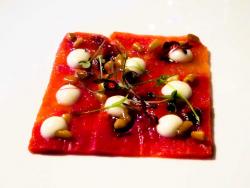 And finally the main event, dinner. I can't begin to tell of all the dishes served, the menu is below, but stand-outs from the stand-outs were 3 Star chef Thomas Buhner of La Vie restaurant in Germany's smoked carpaccio of watermelon, parmesan cream, pine seeds, balsamico and wild herbs. Watermelon is not the most flavoursome of the melons, but it is always refreshing. The smoking certainly made it special, the flavour in the nose as much as on the palate, it was a subtle dish that had multiple textures and a lingering memory. It was paired with Dog Point Sauvignon Blanc, 2010, a wine introduced like all the wines that would follow, by Jason Turner a classic wine expert, in that he was as much showman as he was oenophile, full of anecdotes as well as accessible expertise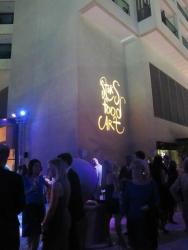 Bernard Bach, 2 Star chef of Le Puits St Jacques put out grilled scallops with a saffron brioche crust, fennel foam and lemon caviar. To attempt to cook something like 200 scallops perfectly was tempting fate but Bernard brought it off. The aniseedy fennel and the crisp sharp lemon caviar were perfect against the buttery shellfish and the dish was well served by a wine from France, Hugel et Fils Gentil 2009. This had a steeliness that refreshed the palate, a dryness that crisped all the way to end and a massive floral bouquet.
Flowers would have been in order for the entertainment, putting the Art in food and art star turn opera singer Edita Adlerova from the Czech Republic performed for the first time in the Middle East, her voice rising effortlessly above the happy babble of the diners. She was just one of the international entertainers on the night.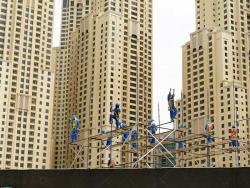 Giovanni d'Angelo of Il Rigoletto produced one of the star turns in food, his Tomatoes datterino with burrata cheese lasagnetto and basil looked simple, as indeed it was, but the datterino tomatoes, sweet and fleshy and often held to be the best Italian plum type tomato of all, were brilliant. Wrapping the tomato in creamy burrata 'lasagne' was a clever trick, not least because, wily old hand at these Stars events that Giovanni is, it meant he could prep up easily in advance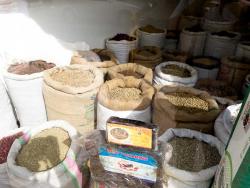 Cyrus's Duck Tikka a la Mrs Mathew was a bit cold; the journey from the kitchen being a long one, but this Breast of Barbary Duck marinated in a Keralan-Syrian-Christian style was still superb. Cyrus told me it had been specified by the organisers who had eaten it in his London restaurant when they came on a scouting trip earlier. Appropriately enough an Indian wine was served, Dindori Sula Reserve Shiraz 2008. A full-bodied response to the buttery soft duck's flavours of red chilli, toasted fennel, ginger and roasted cardamom.
At around 1am, as everyone was beginning to flag a bit, and I was thinking with some concern about my cab that was coming in just four hours' time, Claire Clark's dessert appeared. She called it a Fantasy Hoop and it was certainly the stuff dessert lovers' dreams are m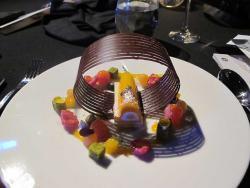 ade of. A chocolate hoop arched over coconut crème, mango cremeaux, tropical fruit confetti and fruit coulis. Totally appropriate for a warm night outdoors, it had the visual appeal of a firework display and so made a fitting end.
There was coffee of course but I had two choices – stay awake on caffeine until my cab to the airport arrived, or try to get some sleep in the scant four hours available. I opted for the coward's way out and headed back to my room wobbling gently and feeling I might never need to eat again. So it was a shock to find a selection of 9 fancy desserts from the hotel waiting on my bedside table, along with non alcoholic champagne.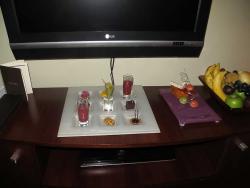 I didn't eat them, which was a waste, I hope the maid did. In Dubai there is excess for some but by no means for all, so with luck my charming room staff at least got a small taste of the sweet life I'd just enjoyed for a brief moment.
_______________________
Sofitel Food Stars and Art is around the world and will be coming to London in 2013 at the Sofitel St James, the chefs have yet to be announced.
HOTEL SOFITEL DUBAI JUMEIRAH BEACH
Jumeirah Beach Residence, Dubai Marina, PO BOX 473828, 0 DUBAI, UNITED ARAB EMIRATES
The menu
Thomas Bühner, *** La Vie (Osnabrück, Germany)
Smoked carpaccio of watermelon, parmesan cream, pine seeds, balsamic, wild herbs.
Dog Point Sauvignon Blanc 2010, Marlborough, New Zealand
Christophe Aribert, ** Les Terrasses (Uriage les Bains, France)
Pan-seared foie gras, strawberries, antesite and salad shoots
Reichsrat van Buhl Riesling Kabinett "Julie" Halbtrocken 2009, Pfalz, Germany
Joe Barza, Joe Barza Culinary Consultancy (Beirut, Lebanon)
Akkawi cheese wrapped in fattoush salad
Guigal Cotes du Rhone Blanc 2010, Rhone Valley, France
Bernard Bach, ** Le Puits Saint Jacques (Pujaudran, France)
Grilled scallops, saffron brioche crust, fennel foam, lemon caviar
Hugel et Fils Gentil 2009, Alsace, France
Giovanni D'Amato, ** Il Rigoletto (Reggiolo, Italy)
Tomatoes , datterino', burrata cheese lasagnetta, basil
Frescobaldi Nipozzano Riserva 2008, Chianti Rufina DOCG, Italy
Thomas Bühner, *** La Vie (Osnabrück, Germany)
Potato foam, pumpkin ice-cream Hot/cold
Cyrus Todiwala Spice Namaste (London, UK)
Duck Tikka a la Mrs Matthew
Dindori Sula Reserve Shiraz 2008, Nashik, India
Claire Clark, *** The French Laundry (California, USA)
Fantasy Hoop Coconut crème, mango cremeaux, tropical fruit confetti, fruit coulis
Klur Gewurztraminer vendanges tardives 2004, Alsace, France