Danielle Woodward discovers a plethora of foodie delights at the recent Foodies Festival held at Syon Park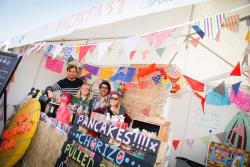 With 10 locations for the festival this summer, including Clapham Common and Alexandra Palace next month, the Foodies Festival is a relaxed, family day out, with the promise of delicious discoveries.
We went on Saturday 23rd May to Syon Park, Brentford. Unsure what to expect as I'd never been to a Foodies Festival before, I hoped it wouldn't be too crowded and I wouldn't have to elbow my way through other greedy people to gorge on the food available. I needn't have worried; there were enough people there throughout the day to create a friendly, buzzy atmosphere, but not too many that I had to queue for ages.
I spent the first couple of hours wandering around, looking at the various stalls and suppliers and taste-testing wherever possible! I started with delicious cured meats from Somerset Charcuterie, fabulous smoked cheddar (and cider) from Godminster and unusual cheddar variations from The Great British Cheese Company (my favourite was the 'Drunken Monk', with caramelised onions and wine) and tasty traditional fudge from The Wonky Kitchen.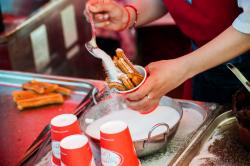 The choice of street food was extensive with everything from hog roasts, tapas, tagines, Jamaican and Thai to hog roasts. I enjoyed an amazing Venezuelan fried doughy bun, filled with chilli beef, guacamole and cheese that really hit the spot.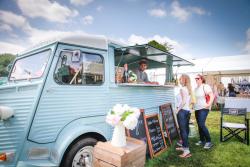 Events included classes and demonstrations in the drinks theatre, where you could taste and learn about wine, champagne, sherry, ales and cocktails with experts including Charles Metcalfe and Melissa Cole. But it was the Aga Rangemaster Chefs theatre that was packed, particularly when it came to last year's MasterChef winner, Ping Coombes, demonstrating her favourite recipes, including lemongrass and ginger meatballs.
Kids can hone their skills in the Children's Cookery Theatre – I watched a group of six-year-olds have fun making 'Party Pinwheels and Bubble Bread Bombs' and a 'Tasty Tex Mex Salad', then watched in fascination in the Tasting Theatre, where I got a crash-course on urban beekeeping from Blackman Bee Farm and bought some fab local honey.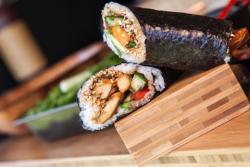 Plus, chocolatier Fiona Sciolti made coconut balls and popcorn brittle, and we got to sample her botanical chocolate (tasty flavours including dark chocolate with orange and chilli, and milk chocolate with sea salt and cocoa nibs). If that wasn't enough, there were also numerous stands with cakes and bakes – I was particularly impressed by The Brownie Bar and SK Biscuits.
It wouldn't be a British summer if there wasn't a spot of rain, and as the rainclouds passed overhead, we took shelter in the Silent Disco tent and enjoyed a glass of Pimm's, Pinkster Gin and the new Stella Artois Cidre variants of elderflower and peach that have recently launched. As the rain eased, I watched a bloke demonstrate NovaUK ceramic pans – no oiling needed and nothing sticks to the base, not even burnt-on cheese. Pretty impressive.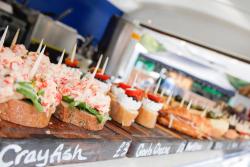 With live bands Mila Falls, Jipsy Magic and Apples…I'm Home providing the musical backdrop, we spread out our picnic blanket and joined the other feasting foodies to survey our purchases and rest awhile before heading home, after a very enjoyable day. Sadly, we missed the famous Chilli Eating Competition at 5pm – where brave (crazy?) people can test their strength against fiery peppers. All the more reason to go back to the Foodies Festival again!
The next Foodies Festival is in Bristol, on 26-28 June. Other venues around London include Alexandra Palace on 3-5 July and Clapham Common on 24-26 July, plus Tatton Park, Edinburgh, Oxford and Harrogate.