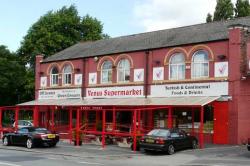 Have you ever listened to one of those relaxation tapes? The ones where you're told to imagine a 'happy place' then prodded in the right direction. Usually you find yourself directed to a beach. Inevitably there's a sailing boat and warm, golden sand between your toes. Can you hear the sea lapping the shore? Congratulations, you've found your happy place.
My happy place is a foreign-foods supermarket, and this relates to my time as a student in Manchester when I found myself happily sandwiched between Venus Foods on Ferris Street and Worldwide, a multinational food store located in Longsight. While fellow students foraged the reduced section at Tesco Express, I knew instinctively that there must be higher forms of sustenance than a fortnight-old lasagne.
Bastions of red brick Victoriana off Oxford Road, these stores aren't pretty or even quaint, but brave the doors and you'll find isles choc-full of chewy, pistachio-filled Iranian nougat scented with rose water, boxes of wafer-thin biscuits flavoured with almond and cinnamon, olives, preserved lemons with their crusts of salt, and mysterious jars of cloudy pickles bearing the slanted script of the East.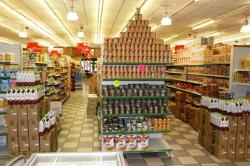 Enamelled caddies of Chinese Gunpowder tea; broken orange pekoe from Sri Lanka and jumbo tins of jack-fruit, lychees and kumquats in syrup. In the back bakery, sticky-sweet baklava and huge sesame breads like giant pretzels came from the ovens each morning. I'd buy roasted pumpkin seeds and leathery strips of dried mango to nibble as I typed up essays. Tins of rice-stuffed vine leaves, cool white bricks of feta cheese, soft cha siu baau buns and fermented shrimp paste all made it into my basket, along with vacuum sealed lotus root and fried broad beans.
Tagged onto the back of Worldwide is a brilliant vegetable market with heaped boxes of chillies, sweet jumbo garlic sold by the dozen and fresh tamarind pods that taste like fruity toffee. Huge thistle-like cardoons are piled beside long daikon radish, baby aubergines and okra – the pointy little legumes known as 'ladies fingers' that form the basis of many Arabic dishes. At a certain time of year, the fantastical looking durian fruit arrives from Malaysia: a huge weighty conker of a fruit with formidable spikes and a rich, creamy-yellow flesh famed for its foul smell and prized for its smoky, almost rancid flavour – an acquired taste that I'm still addicted to.
I spent literally hours reading packets, touching and smelling new ingredients – wondering how they tasted and putting recipes together in my head that often lead to disasters in reality. I thought about the old trade routes that still crisscross the globe: the old Ottoman roads, the railways of India and the Orient, the ports of Java, the Ivory Coast and Great Britain. This is my 'happy place', amongst the hybrid hotchpotch, the dented tins and jumbled fragments, the weird halogen-lit aisles.
Venus Foods Ferris St Manchester, Greater Manchester M11 1AF
Worldwide 24 Slade Lane, Longsight, Manchester