Natalie wasn't in on our visit to The Portman. Probably too busy promoting her portrayal of artfully deranged ballerina, Nina Sayers in'Black Swan'. Fortunately, Audrey was. The cute French waitress remained mild mannered despite a dumbwaiter's intermittent resistance.
My reporter friend and I wound narrow stairs to celebrate publication of 'Inside Julian Assange's War on Secrecy' on which he contributed. A good opportunity to test dine the menu of South African chef, Frans de Wet, in the job for two weeks only.
Trained at Cape Town's Higgs School of Good Cooking (Meerendal Hospitality Academy), Wet sharpened his craft at South African restaurants, Hauté Cabriere and De Oude Welgemoed (the latter offering Cape-Malay cuisine) then Brula Bistro, La Buvette, Landsdowne Club, Brasserie Roux (Sofitel St James) and The Carlton Club in London.
History abounds within these walls. It is said executioners eagerly slaked their thirst at the bar before and after shedding others' blood at the nearby Tyburn tree, a particularly brutal form of gallows efficiently allowing up to 24 to be simultaneously snuffed.
Pub proper features a social square counter at ground floor, while the more formal restaurant, where we ate, spans the first. This is lined with comfy Angel Delight butterscotch coloured banquettes. Despite the ingress of the street's sodium glow lending the impression that drapes were stolen, it is cosily lit. I'd dispense with some of the more rousing tracks on the playlist however.
Ordered from concise menus wrapped alas in clashing pink, my friend dived cutlery into tender game terrine with a tangle of nervy red onion marmalade while I savoured a salad of exceptionally tender pigeon with port, beetroot and pine nuts. These became purple dyed by proxy. Although billed as warm, my pigeon landed cool. According to the commendably quick thinking Welsh manageress, this was how Wet intended it and how it appeared in staff tastings in days before.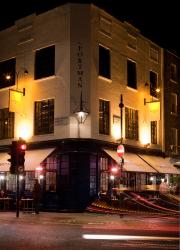 Dishes and topic of conversation were inadvertently matched.  My friend recalled a recent shout in Northamptonshire, where tonight's pigeon and game happened to be raised. Fortunately, dishes thus far had been what Michael Winner might term'historic', so we took home a more savoury reference to that county in our bellies than the grisly reportage of a crooked businessman's massive pillaging from Sally Army.
For the main act, we opted for a bloody old cow: as deeply smelly as Biltong. Texturally quite relaxed and cutting like warm butter, Longhorn côte de boeuf was properly pink. Wet's soul is certainly with the braai, not frippery like the overly greased skeletal fries, which were not to my taste. However a side order of turnip gratin (my first taste) proved winningly firm yet creamy.
The Portman is proving a well tempered cygnet to the owner's other pubs, The House in Canonbury Square and Berkeley Square's The Only Running Footman. Safe in the knowledge that the only blood to be shed in its environs oozes from tenderly treated protein, I tipsily toasted the success of actress, friend and chef with a balloon of well rested Armagnac…