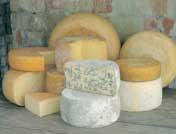 What do you know about Welsh cheese? Well it's time to find out more. Why not pop along to John Lewis on Oxford Street to join in one of three exclusive Welsh Cheese Masterclasses to celebrate St David's Day. The very best of Welsh Cheese will be in London for a Cheese Masterclass at John Lewis Foodhall, Oxford Street. Guests attending the Masterclasses on Tuesday 1 March will be introduced to a range of delicious Welsh cheeses, with the opportunity to taste and learn how the cheeses are produced, and how their differing characteristics are developed.
Cheese expert, David Edwards, will be at the John Lewis Foodhall at 17:15, 18:15 and 19:15 offering tutored tastings of traditional Welsh cheeses including Gorwydd Caerphilly, soft cheeses like Perl Wen and Golden Cenarth, and semi soft, hard, washed rind and blue cheeses. The 30 minute Masterclass and tasting is free to attend and places will be allocated on a first come first served basis. For a confirmed place on a Masterclass it is recommended to register in advance with staff at the John Lewis Foodhall or email sioned.best@menterabusnes.co.uk.
True Taste Award-winner and winner of the Supreme Champion Award at the 2010 British Cheese Awards, Carwyn Adams will also be on-hand with top tasting tips and for three lucky winners there will be the chance to take home a hamper full of the tasty Welsh Cheeses.
In recent years, Wales has led the charge in producing artisan food and drink. Innovative cheese varieties and the long-established Welsh Caerphilly are now being produced across the country by small, artisan dairies as well as larger more established producers. Wales the True Taste Award-winning cheeses include varieties as wide-ranging as the traditional Caerphilly from Gorwydd, and the smooth and creamy Pembrokeshire Extra Mature Cheddar, to Golden Cenarth, an organic washed rind soft cheese with a pungent aroma and Hafod Cheese, a buttery, nutty flavoured cheese made with raw Ayrshire milk
A selection of the cheeses included in the Masterclass are available from the John Lewis Foodhall, Oxford Street and Waitrose nationwide and will be available to taste in the John Lewis Foodhall from 11:30am until 14:30pm and 17:30pm until 19:30pm on 1 March 2011.
The Cheese Masterclass is part of a wider St David's Day celebration at the John Lewis Foodhall. Other Wales True Taste Award-wining producers featured at John Lewis include The Anglesey Sea Salt Company, Tan y Castell, Rhug Estate, The Welsh Whisky Company, The Patchwork Traditional Food Company, The Fresh Pasta Company, Rachel's, Bacheldre Watermill, Tregroes Waffles and Ty Nant Spring Water.