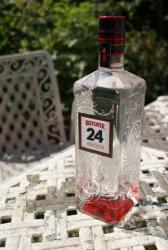 According to facts contained within a hearty collection of press material dished out by the PR people, Gin and Tonic was originally developed as a medicine. The quinine in tonic water helped stave off the malaria Brits had a habit of catching as they pootled about Asia, and adding gin made quinine more palatable.
Despite reassurances that disease-carrying mosquitoes are yet to make it to these shores, prevention is always better than cure, and a trip to any sunny beer garden this weekend will reveal that many drinkers are happily and repeatedly protecting themselves from malaria with one of Britain's favourite tinctures.
The onset of summery weather and the consequent upsurge in gin consumption coincided with Tuesday's 'Distillers' Dinner' at Hix Soho. Master Distillers Desmond Payne and Sean Harrison spoke to guests about some of the history and philosophies behind Beefeater and Plymouth gin and Dre Masso, a leading cocktail maestro, talked about the launch of new website GinandTales.com.
Mark's Bar, downstairs at Hix, was an appropriate choice of venue for the evening, and proceedings began with a refreshing, fruity, gin-based (of course) cocktail. It was the sort of thing a sophisticated sop would drink with breakfast as a cleanser, possessing that pleasant-but-also-faintly-alarming characteristic of tasting too much like juice and not enough like alcohol. It was welcome after a warm and smoggy trip across London.
Moments before we set upon a large platter of seafood, which could have easily accounted for 25% of the planet's marine life, we were served with a martini that shouted of booze where the previous cocktail had whispered.
This marked the moment for Desmond Payne to talk briefly about his impressive 40 years in the gin business, and also about some of the limited edition Beefeater gins he has developed recently. These include Beefeater 24, a premium gin made from botanicals including Japanese and Chinese green teas, and London Market, a gin inspired by the diverse offerings at markets across the capital.
After the shellfish, Dre Masso introduced GinandTales.com, a website that will host gin cocktail recipes, tutorials and techniques from experts in the drinks industry. The site is intended to be a 'cocktail bible' for beginners as well as aficionados, and will feature interviews with famous bartenders and a monthly top three of the best cocktail bars in the world. The website promises to be a complete package for cocktail enthusiasts and will be a quick, easily accessible method of discovering new flavours and ideas.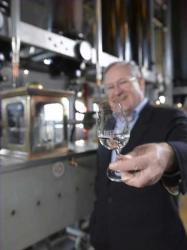 It would be greatly remiss to let gin and cocktails wash words about the evening's food entirely off this page. My tasting plates on a previous visit to Hix were superb and the food served at the Distillers' Dinner did not disappoint. Whole roast chickens came to the table absolutely soaking with moisture, their meat tasting of butter and wild garlic. Slices of pinkish veal were also excellent, and salty, wiry fries, jumbled with slices of roast garlic, got on with soaking up the juices of both meats. Eating out as a way of avoiding cooking and washing-up is understandable but the experience is best when the food in front of you is of a type that could never be recreated at home. Despite the apparent simplicity of the main course, I've never had roast chicken like it. Hix is very impressive.
The evening ended with a small sample of Beefeater's London Market gin. Not officially released until summer, it appeared on the table in a large brown medicine bottle with a handwritten label and an explanation from Desmond Payne that it was still a bit stronger than he intends for the final version. Nevertheless, it was near enough finished for guests to identify the subtle hint of cardamom that looks set to characterise this edition.
Brands like Tanqueray and Bombay Sapphire seem more modern and glamorous than Beefeater and Plymouth to many consumers, but the Distillers' Dinner proved that these traditional names have a wealth of experience and expertise behind them that you can't find everywhere in the industry. Desmond's approach to botanicals for his limited editions goes a long way in showing that they are capable of producing innovative, fashionable products too.