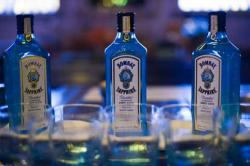 Strolling over London Bridge at 6pm one sunny evening, I was struck by the straight faces, and dertermined straight-ahead staring, of the flood of people power-flowing south – seemingly keen to avoid the view of the flowing river below and the glorious views left and right. For me, the river is always captivating, whether I'm rushing to catch a train at the other end (which I imagine was what everyone else was doing) or strolling towards a less time-sensitive destination.
That night I was on my way to Vinopolis and a press event not about wine but about Bombay Sapphire gin, to celebrate the 250th anniversary of the recipe on which it is based. No wonder I smiled so widely but lightly, eyes left then right, at the views of the setting sun glinting on Tower Bridge, HMS Belfast, the gherkin, the spire of Southwark Cathedral and in my eye at the thought of an ice cold, aromatic G&T.
I had forgotten how lovely the area nearby is – cobbled streets, narrow alleys, converted warehouses, ancient pubs and, tragically, chain restaurant or café after chain after chain after chain, all doing their best to denude the area of individuality and character. Having started on an atmospheric high, the dreary homogeneity creeping into this historical spot made me crave a mood enhancing pick-me-up.
The first drink that was thrust into my willing hand was an Italian 75 – the zing and pinkish hue of blood oranges shaken with ice and gin topped up with a splash of Asti Spumante for fizz, just what I needed as about 20 of us mingled in Vinopolis's Bombay Sapphire Blue Room, as glittery-sparkly as any sophisticated cocktail bar, cleverly lit to match the pretty blue of the Bombay Sapphire bottle. Drinking a cocktail here is included in the wine tours offered by Vinopolis – and I will be taking one soon as soon as I sober up.
Back to the business in hand – another Italian 75 and a fascinating talk by one of Bombay Sapphire's principal tasters about what makes a gin a gin (and what makes Bombay Sapphire my favourite gin).
According to the EU (inevitably) gin is 'a juniper-dominant spirit of agricultural origin with an alcohol level of 37.5 per cent minimum". Bombay Sapphire comes in at 40 per cent – more than Gordon's (37.5 per cent, the minimum), a little behind Plymouth Original Strength (41.2 per cent) and Tanqueray (43.5) and miles behind Plymouth Navy Strength (at a stonking 57 per cent). But getting drunk quickly is not what makes me hit the bottle; it's flavour that gets me turning to drink.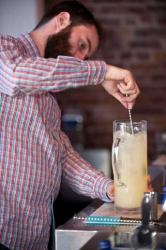 Which brings us back to the reference to 'agricultural origin". A gin has to be made of natural ingredients and Bombay Sapphire is very proud of its botanical mix and their provenance. The Bombay Sapphire botanicals chooser – yes, it's a real job – is given a free hand to select whichever batches of the required botanicals he wants, without thinking about their price, to maintain quality of flavour. Precise proportions are, of course, secret but we were introduced to them all and encouraged to feel, smell and taste them while listening to the process that leads to that clear liquid being poured over ice.
Unusually, the botanicals are not added to the still but kept separate in a perforated copper basket through which the wheat-based spirit passes. The order in which the botanicals fill the basket is a crucial aspect of giving Bombay Sapphire its distinctive flavour – and they weren't telling us that, either.
Another Italian 75 appeared and my notes become slightly indistinct. There are references to 'high, fresh notes" from Tuscan juniper berries, giving the gin a hint of camphor. (No wonder I love opening my camphorwood chest, I wrote.) Sun dried lemon peel (meticulously scraped of pith to remove any risk of mould) has the required bitterness of marmalade that is needed to lift the aroma. Coriander seed – larger than we are used to as they contain more essential oils – also add a citrusy note. We sniffed, chewed … and sipped in between.
Earthy, aromatic base tones come from dried angelica root from Dresden (smells of musty student accommodation, my notes say); orris root (from the iris family, from Florence) is dried for four years till it is bone hard then ground to a powder (tastes of perfume, my scribbles reveal).
Mid tones came next. Liquorice root adds a sweet note and balances the recipe (we apparently all taste liquorice differently, which this childhood-fan of Black Jack's found interesting). Bitter almonds, from southern Spain, are finely ground to release their oils (it tasted like the odd one that catches you unawares and lurches you into reaching for a tissue to spit into discreetly). Cassia bark (from Indo-China and the oldest spice known to man) tastes like cinnamon-plus (very spicy on the tongue, I recorded). Thank goodness there was something left in my glass for a quick mouth rinse. Cubeb berries (also known as Java pepper) added a floral note (like pot pouri, in my on the spot view). Finally grains of paradise (or, as I've recorded, grated paradise – the gin had taken over) add even more pepper plus a hint of lavender, chocolate and curry. It is also an aphrodisiac, we were told (not that I was capable of finding out).
We staggered, not necessarily in straight lines, back to the bar. And then I saw it. A bottle of gin, in a display case, with a label that seemed strikingly familiar. Suddenly, I was in Bombay aged about six at one of my parents' drinks parties watching my father pour pink gins. We used what he called Bombay Gin and I had assumed it was gin made in Bombay. Now I knew it was the fore-runner to Bombay Sapphire. No, it couldn't have been, suggested one of the Bombay Sapphire team; launched in 1959, Bombay Gin was only available in America. Ah, I said, but American firms had moved into India in the 50s and early 60s and I remember my parents saying they bought their gin on the black market. That was it, definitely. Time to celebrate the discovery of a long lost friend! I raised various glasses as they did the rounds, taking hefty slurps through a straw: Collins, Bramble, Aviation … they kept on flowing, which is more than I can say of my notes.
The tips also flowed, including advice on making the best Bombay Sapphire G&T. I got that right, too. Use Fever-Tree tonic because it, too, is made of natural ingredients and doesn't overpower the smooth and complex flavour of this gorgeous gin.
And then it was our turn to get shaking behind the bar. Or wobbling. Just able to stand, I tried my hand at making something highly citrusy like a caipirinha – desperate for something to zing me out of my near-stupor. A Collins with a twist was the suggestion: half a lemon, squeezed more or less into the glass, but definitely also down the side, using a clever and very efficient, hand-held juicing gizmo; 10ml of rhubarb liqueur; a few mint leaves, crushed lightly and rubbed round the rim of the glass (hard to do accurately when under the influence); five seconds of Bombay Sapphire poured from a great height into the glass (I didn't miss! I think I counted to five, correctly); a splash of soda water (whooosh!). Topped with a wedge (of lemon, I think); a sprig of mint and something I can't decipher. It was good. I needed the soda water.
I don't remember the journey home and whether I looked left and right for floodlit views as I crossed the bridge. But I do have a receipt for a pizza eaten (to soak up the liquid, presumably) in one of those thank-goodness-they-exist-when-you-need-them chains. And I will be making cocktails over long weekends when recovering is possible.
Please drink responsibly!