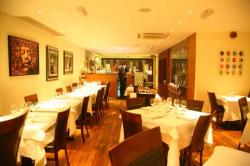 They say that the Warlingham area has more millionaires than anywhere else in England, outside of London that is.
There's one less now after the sad demise of local lad Smiley Culture. Apparently Mr Culture's wealth came from wisely investing the modest sums he made from his 80s hit singles like Police Officer into gold and diamond mine concessions in places such Liberia, Kenya, and the Democratic Republic of the Congo.
Local wealth like his explains the menu at India Dining. these prices are not average suburban curry house. I'm a bit of an old Warlinghamian myself and I well recall evenings in the local pub that ended in trying to exit the car park without attracting the attention of the police lurking in ambush opposite. The solution that Smiley, in his ever helpful way, once offered was simple:

'Police Officer me is a expert driver
So if you see me no shout and no holler
No stand up in the road with a torch and try pull me over
Ca' if it's a dark night by yourself you will get run over'
We reckoned that running over policemen was a bit drastic though.
G, an old friend from back in the day, has come with me as he still lives relatively nearby. I find him nursing a half of lager when I arrive while looking with a critical eye at the disparate artworks on the wall. The room is indeed a bit confused stylistically but it's well air-conditioned with comfortably placed tables and an upmarket feel.
Owner Asad Khan was a member of the original team which launched London's Cinnamon Club and employs as head chef Deepak Rohilla, whose credentials include The Oberoi in India and it shows. Charcoal smoked, pan seared venison has been marinated in star anise and fennel and is a tippy toes delicate starter and not, as feared, a big old hunk of meat.
Sliced thinly it's stacked over pineapple chutney, which is a bit too overpowering for the meat. Full marks for the venison, which is properly cooked and subtly spiced, as well as being a free range, sustainable meat we should all be eating much more of.
G has Scottish King Scallops with a strawberry and chilli chutney that he reckons is a perfect marriage, although to be fair he wanted a bit more caramelisation on the scallops. You can never have too hot a plate to sear scallops on – fast is key so that the centre stays soft
You don't see rabbit nearly enough in restaurants and even less in Indian ones, so the Tandoori rabbit in tamarind and coconut sauce has to be tried. Tandoori here seems to refer strictly to the cooking method, as the loin is not the expected bright orange. The sauce is too sweetly strong on tomato, which masks the pucker of the tamarind rather, but it is an excellent dish all the same. The Spinach and mushroom with it demonstrates how spinach should be cooked – it's not wet and slimy, it has texture and taste and would be a good vegetarian main dish, especially with the bread selection which is more flatbread than nan, being unpuffed and slippery with tasty oil.
Fish for G who reckoned his cod with steamed rice to be outstanding and like an Eastern take on a cod Mornay. The firm, flaky subtly spiced fish has been marinated in mustard, chilli and lime and served with a vibrant lemon butter sauce.
Both dishes were plated up in the kitchen, so avoiding the barrage of dishes that normally litter the table. This added an air of refinement, as well as keeping my clothes clean.
Last up was Beetroot Pudding spiced with cardamom and star anise served with vanilla ice-cream. This was a stunner. Of course beetroot is sweet with natural sugar, but this brought out its earthier tones too and was a really clever use of a much maligned vegetable.
We drank only lager, I have never subscribed to the view that wine ever works with Indian food, but India Dining does have an impressive wine list for those who feel differently.
This is overall a class act, an 'Indian' that is fine dining. We see it a lot in London, it's rare outside. For locals it's a bit of a godsend I'd imagine, and for Londoners prepared to make a short train ride it's a India dining experience well worth having.
Nearest Station: Upper Warlingham BR train station with fast train services to London Victoria and London Bridge