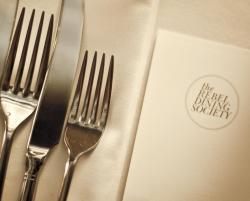 The Rebel Dining Society have teamed up with Pernod Absinthe again this year for the return of The Green Hour, a series of 10 immersive pop-up dining experiences.
Throughout 2010, the collaboration created a very successful series of pop-ups at secret venues. This year, all 10 pop-ups will take place at The Rebel Dining Society's headquarters on Vyner Street.
Diners will learn to make five absinthe cocktails using Pernod absinthe, led by one of the top mixologists taking part. The mixologists involved include 69 Colebrooke Row's Tony Conigliaro, the founder of London Cocktail Club JJ Goodman, Drinks International Cocktail Challenge winner Merlin Griffiths and Matt Armitage of Bartechnics. The cocktails will also be accompanied by a tasting menu of five molecular gastronomy courses.
The dining events are held on Wednesdays throughout May, June and at the beginning of July, priced at £40 per person.
For more information and to sign up, visit www.therebeldiningsociety.co.uk