Once again, Nik took a trip north of the border to see, smell and taste the land of whisky in all it's glory.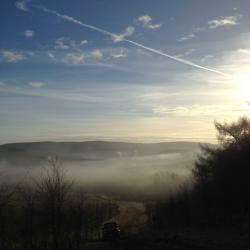 The wheels of the Land Rover weren't spinning, yet the car was moving, sliding simultaneously backwards and sideways down a steep, muddy hillside. With every inch slid, the blemish-free bodywork and squeaky-clean-brand-new-rent-a-car glass windows came ever closer to the protruding branches and sturdy trunks of a clump of trees.
Which button for the hill descent? Which for the hill climb? Which button might just stop the damn thing moving?! Knobs twiddled, wiper blades flapping, stereo booming, airbag deployed, the soft ground finally proved saviour, banking just enough to hold the car, millimetres from the first tree.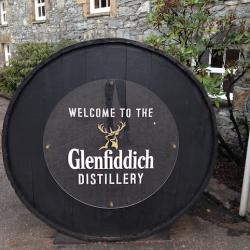 Artistic license may have been employed here, so were a pair of boots shortly afterwards. We marched up the hill that, apparently, no 4×4 could climb and stood to survey the stunning view of the almost invisible Glenfiddich Distillery and the town of Dufftown below, both shrouded by mist hanging low beneath a bolt blue sky. It's a shot that Land Rover should pay for: their car hard at work amongst the rugged beauty of Scotland – from the picture, no one can tell how badly it failed.
We've been here before, very recently. The Glenrothes Distillery is just a dram's throw away from Glenfiddich. Still, Scotland is picturesque enough, and whisky diverse and interesting enough, to warrant another trip.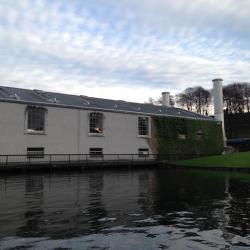 The Glenfiddich Distillery is Glenrothes on steroids. It's huge. Warehouse after warehouse, still after still, mash tun after mash tun. It has a visitors centre, a restaurant, and tours seven days a week. Most importantly, it doesn't lose that smaller distillery's charm. A cluster of original stone buildings, a small cooling lake and a manicured lawn welcome guests as their car sweeps up the driveway. The more ugly, corrugated necessities of a modern distillery are well hidden beneath old stone and the natural slope of the land.
A tour of Glenfiddich provides sights similar to any other, with the added bonus of a Solera vat to sniff – a process adapted from the Spanish and used by Glenfiddich to advance the age of a whisky.
Not unusually, a tasting waits at the end of the tour. Carpet, fire and a warm sofa, so distinct from those cold alcohol soaked warehouses, the perfect setting for many a glass from the endless bottles that lined the walls. We began with the clear sharp 12 year, before moving on to the mellowed 18 year and finally the far smoother, heavily wooded 30 year. Others followed, but I'd be lying if I said I remember much more after those first few drams.
Well warmed from the tour, an evening spent at the refurbished Torrin House – a millionaire's paradise of a house, complete with walk in showers sized for a mammoth, a similar sized snooker table and a kitchen for the staff to cook up our dinner – was followed the next morning by a chance to try a hand at mixing a Solera batch.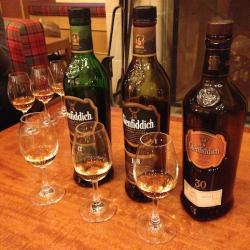 Sniffing three glasses of 15 year old scotch, matured in barrels of different woods, and guessing at the proportions of each necessary for the final product is both an exciting and infuriating task. The weeks spent settling, infusing and mixing in the wooden Solera vat will have to be substituted by a similar period spent in a glass tube on my mantel piece. We shall see, taste and smell the results of our efforts next year or at least I will with half of my stock – the other is now seeping into the fabric of my washbag, having failed to survive the flight home.
This trip wasn't entirely about whisky, mind you. It was also a chance to sample the delights of Scottish cuisine, in both the distillery's restaurant and from our own visiting chef. Ox cheek with sweet potato and charred onion ring was a particular favourite of mine. A tender, sweet dish, I can't look at it's picture without wishing I was eating it at least once a week, if not more.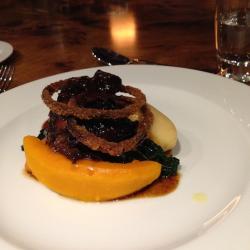 There were also some more traditional dishes on offer, in the form of a thick, punchy cullen skink (a haddock broth), a surprisingly delicate haggis served on a bed of boiling hot, blended neeps and tatties, and a couple of crisp venison stovvies.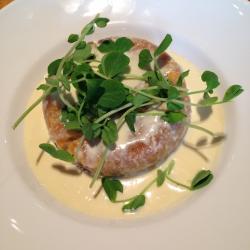 Scottish food suits the weather perfectly. Hearty is an overused word, but this really is hearty stuff. Warming meat, filling potato, all of these dishes had an intricacy about them which defies the usual stereotype. The haggis, for instance, was subtle and mellow, rather than carrying the bold offal flavour most people fear; while the smell of the cullen almost brought the Scottish coastline to the window.
As lamented many times before, these trips are always over too soon. The wheels touch down and lift back up again with remarkable speed. Exhausted, eyes drooping, feet dragging, dumped back in Paddington with a lorry load of commuters, it feels like a day-return, rather than two.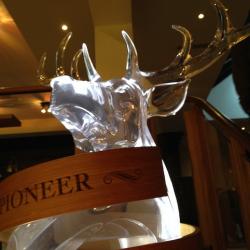 As ever, this trip was a brilliant blur of tastes, sights, sounds, incredibly interesting companions and a huge dose of industry knowledge from people with a real love for their craft. Like a sponge hit with a wave, you inevitably only pick up a tiny bit of the entire experience; but, unlike a sponge, you inevitably retain a great deal more.
Like this article?
Then you'll love…
– Nick's trip to The Gin Palace
– The Glenrothes Distillery – An insight into the world of whisky