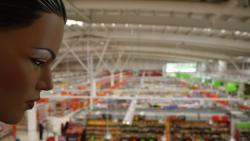 One's choice of supermarket is as personal as one's political persuasion. Ideologically, I'd rather shirk the 'sheds' for street stalls, indies and, if they didn't feel like farmers' mark-ups, farmers' markets.
Perhaps on account of their unappealing TV ads, targeting penny pinchers with Freudian bottom-smacking antics, I rarely vote with my feet for Asda. However 18 million others do, taking an average of 55 minutes to exchange £28 for the week's vital victuals.
Globes from Campana
Whilst recently plundering my parents' fridge, I spied a tub of Asda's Mozzarella di bufala from Campana. The week before, I'd invested time drumming interest in a kind of Mozzarella Eurovision, celebrating this noble cheese across 25 capitals two years clear from the toxic waste scandal.
Overwhelmed by curiosity, I tore open the lid and pierced the paper white pearls. Fresh milk welled up my fork's tines. The morsels were soft, elastic, bursting with salinity and minerality, bevelled with a lasting lactic bite. How, I wondered, could such flawless quality be delivered at just £1.28?
I posted words to the effect on Twitter. Almost instantly, my veiled complement appeared on 'ORB' (Online Reputation Booth) at Asda HQ. Vickie North, one of eight in-house PR's, replied by asking, why shouldn't it be good? -Asda has garnered more awards for its cheese range than any other supermarket…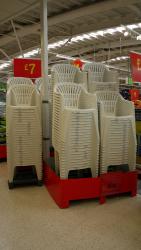 I ranted in reply. Wasn't quantity, not quality prerogative for Asda's gigantic consumers, clad, to my mind's eye, in marquee-sized, own-brand clothes and requiring battery buggies to whir widened aisles?
A fortnight on, braced for a squabble but very curious, I rendezvoused with North at Asda, Wembley. Formerly of 'Ben & Jerry's', and recently graduated from a cheese grading course, she sported a name badge boasting 11 months service. One could be forgiven for assuming she was about to marry in; her finacé also works for the firm. Smiling despite a punishing train journey, she said she was determined to prove that cheap food needn't be tasteless.
Aisles Escort
Despite me finding it hard to muster enthusiasm, we ventured on a store tour. Asda (Associated Dairies) is a business besotted by acronyms. Indeed, Wembley is one of 16 'SOL's' (Stores of Learning) defined as 'a high performing store which consistently demonstrates and exemplifies good practice, in all areas of trading.'
All looked orderly under the hangar like canopy, propped by spindly supports, sun-filled and airy. Mezzanine were homewares by 'Asda Living' and clothing by 'George', which North confirmed as the highest volume clothing brand after 'Marks & Spencer'. Apparently designs are ripped from haute couture, with 'nauticalia very fashionable'.
Downstairs, despite the volcano imposed flight ban, black crates which North described as 'showing the produce off better than green crates' were brimming. This is because 'most of Asda's fresh food comes from Britain', according to North, an offering which will soon include Kent grown Okra, followed by 'exotic vegetables'. She added that Asda 'shares suppliers across a variety of produce, meat and ready meals – there are too many to list, but our berry suppliers also supply Waitrose with the same grade of strawberry.'
Pausing at plantains, as blackened as decayed bananas, North giggled: 'staff used to chuck them out thinking they were rotten, but they're tastier black!'
In recognition of the UK's microclimate of local tastes, over 6,000 products from 500 suppliers come in via 'local hubs', a gesture which another of Asda's PR's called 'David leading Goliath'. But what is 'local'? -'What customers think is local,' said North, cryptically.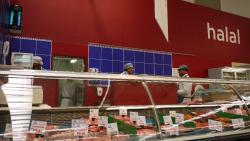 One example is the unfortunate sounding 'Chicken Parmo', introduced last year. This deep-fried, battered, flattened chicken smothered in Bechamel and Cheddar was apparently invented at Middlesborough's 'Europa Restaurant'. Whilst popular in Sunderland, Stockton, Middlesbrough and Teeside, it had to come out of Newcastle, said North. 'We learnt from customer feedback and sales that Parmo is a very regional product.'
Turning at the end of the aisle, known in the business as a 'gondola', I spotted a well-staffed franchised Halal butcher, offering as diverse edibles as chicken hearts (great sautéed with garlic). This was gateway to the world food zone, where Kosher hummus, Irish tea and Polish pâtés jostled compost sized bags of various grades of rice 'in recognition of the many faiths who shop here', said North.
The wide corridor was intoxicatingly fragrant with exotic herbs and spices. Apparently the packets of day-glow Caribbean 'Cock' soup are the prime cause for journalists' sniggering. Underground restaurateur and food stylist, Arno Rupert Maasdorp of Brixton's 'Saltoun Supper Club' displays one such sachet under frame in his home. On the breadth of the range, North said: 'customers take ownership, commenting on store layout and products. It's all about choice.'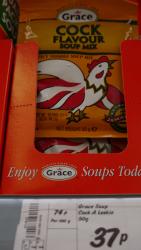 As I pinched a chubby 60 pence ciabatta at the in-store bakery, North explained that in partnership with Irish bakers, 'Le Brea', Asda was the first supermarket to bake from a bespoke mother dough. At the bread's bargain price, she said: 'We've always been about EDLP's' (every day low prices).
Dedicated Triallers
After North was accosted by an elderly shopper who kept joking that he should have a packet of Feta for free because it was unpriced, we took in a 'baby' event (80% of customers are women) near to a 'cleaning' event. According to customer tests, 'Shades is the most popular toilet roll in the country,' offered North. I grimaced at the thought of such dedicated triallers…
After the tour, I was escorted to a suite of rooms annexed to the SOL containing a wide spread of products, from dried limes to own brand vintage Champagne, bright green Nocellera del Belice olives and Parma ham, to a new range of ravioli from Jamie Oliver's supplier, and a loveably misshapen Welsh cake fresh from a local hub.
As I greedily spooned a mound of chocolate ice cream, melted into a foam, North ventured that although I was 'probably more aligned to Waitrose, it might be of interest that there is evidence of a shift in shoppers' demographics, particularly around Christmas.' Indeed, perhaps hastened by the sluggish economy, or swayed by the apparent quality at very low cost, Asda online is receiving ever more orders from affluent London postcodes.
Was I mean in my initial Twitter remarks, and would I return after the brief spin with Asda's pleasant PR?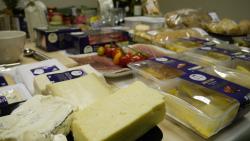 Although the store's scale was intimidating, I'd relish another lap of the world food aisles and a nibble of Cheddar.
If you're a trolley-dolly and work outside the hours of the indies (who seem to shut-up-shop on the stroke of 5pm, oblivious to the return pendulum swing of hungry commuters), I see no need to pay a different brand more for what may well be an identical product.
Incidentally, North confirmed that new promos (by Saatchi and Saatchi) shall focus on quality as well as low price. But they will, alas, retain the horrific bum slapping jingle combo…