Grosvenor House, 86 Park Lane, Mayfair, London, W1K 7TN www.jwsteakhouse.co.uk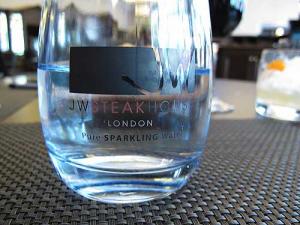 If you've ever wondered why the stereotypical image of Americans is the kid from the Fatboy Slim cover, the one that makes bleeping noises when he's reversing, then look no further than JW Steakhouse.
By God these portions are big, as big as the room they're served in and that's no broom cupboard. Mind you it's a pleasant room for all its size, the tables are well spaced, presumably to allow for diners expanding like Zeppelins as they eat.
Light pours in from Park Lane through large windows leading out to a terrace. The terrace looks tempting, but the cars streaming past suggest you might get unlead poisoning if you ate out there.
Steaks are the thing here, American steaks dry-aged, USDA Prime and fed on corn. Also available there are our own, our very own, Aberdeen Angus all the way from bonny Scotterland, y'all. You can choose from a list that includes Kansas and New York strip steaks and others, including Hangar, my personal favourite and I think the cheapest at £19.
The steaks, we're told, are cooked at 650C on a purpose installed broiler. I am never sure what a broiler is, it isn't a boiler obviously, it must be some kind of super grill. The insanely high temperature is supposed to sear the outside in seconds, like holding the steak under the Space Shuttle during take off, while the inside stays good and tender.
Ok we're sold on the science and order a Porterhouse and a Tomahawk, both medium rare. The Tomahawk, which I thought was some kind of cruise missile, almost could be as it weighs in on the scales at 32oz. and that's the smallest they do.
The waiter tries to convince us that as well as fries we should have a giant potato stuffed with three cheeses, sour cream and bacon. Fat chance pardner, we may be up for a large lunch, but we aren't suicidal. I do agree to a bourbon cocktail from the bourbon bar and it's very good indeed.
First the crab cake starters. These are the last things we will see that don't belong in Land of The Giants, although they are a whopping £14. They're really good though, the large flakes of crabmeat just pushed together not squeezed so that the cake is light, moist and full of flavour. So that's the ladies sorted then.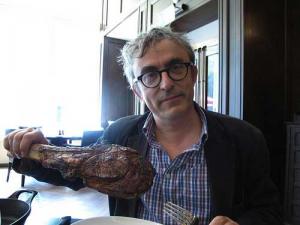 Then come the steaks. It's a shock, they're even bigger than I imagined they'd be and my Tomahawk has a bone the size of an axe handle on it. This is Fred Flintstone food, or possibly Henry VIII. The lovely waitress gives a merry chuckle as she puts our meat down while I instinctively brace the table against it overbalancing.
Large knives mean cutting into our steaks is easy, as does the accurate cooking although I would have liked a bit more caramelisation on the outside. 'It really does make you appreciate just how big cows are doesn't it?' muses J as I hold up my Tomahawk for a comedy photo.
We slice and chew, chew and slice. The steaks are good, the fries are a bit soggy, the salad of tomato and Gorgonzola fine but almost untouched. Mainly because we cant reach across our steaks to get to it. Not at all sure about the sweet potato with marshmallows though, very sweet and sickly to UK palettes. Slowly the massive meat disappears and we start to make puffing noises and put A&E on speed dial. Can anyone eat like this more than once a year? It's kind of obscene and it verges on the vulgar. This is an American restaurant.
We finish respectably, we didn't eat all our steak but by golly we gave it a good go. They are very fine steaks but at £40+ a plate they needed to be.
Cheesecake for dessert is not a slice but the whole cheesecake, at least 6 inches in diameter. We call for a box to take it back to the office. The bread pudding with syrup and bourbon is equally large but we share it. It is of course insanely rich.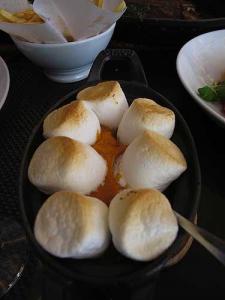 As must be the diners around us and many are wearing laminated passes around their necks. This reminds you that this is a hotel and therefore many people here are on company-sponsored courses.
They'll be on course for the sack if they have rung up half the bill we have for two people. It's staggering at £240 with only three glasses of wine, and so are we as we wend our way to the door.
JW is a serious steak palace, for people with king-sized appetites and wallets to match. Think footballers, consider oligarchs. It's the polar opposite of a certain twee tweezer food joint the opposite end of town, where food is measured out in micro-leaves. It's meat and no veg, calories with no apologies, it is undoubtedly waste but with fine meaty taste. I'm going for a lie down now, my colon is seized. Full stop.