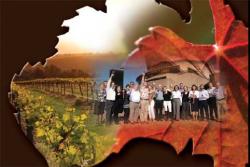 Many of you will know that going along to wine tastings, is not one of my favourite things, but having been invited to the ' Australia's First Families of Wine' tasting event, it would have been rude not to go. The event took place at the Imagination Gallery in Store Street, just off Tottenham Court Road, in an atrium iat the centre of the building. It was a reasonable sized place for the number of producers displaying their wines and for the number of invited guests, at least those there when I arrived, somewhat later than most.
So here I was at this wine tasting, among a diverse mix of people swilling wine in their glasses, sniffing, quaffing and rather wastefully, in my view, spitting it out. I've never been able to do that at these things, I fully understand the principle behind it (to avoid getting drunk and having your judgement impaired) but my upbringing and my intense dislike of waste really wouldn't allow me to spit out good wine in public.
Anyway, where to begin, at the front of the catalogue seemed to me to be the most sensible thing, so I headed to the first table. This was one of several tables entitled 'history and heritage' wines to try a white Tahbilk Marsanne. The 2008 was a fruity acidic little number, which had a good clean sharp flavour and nose. This wine ages well, having had the opportunity to try the 1992 it had much less acidity, but still retaining some sharpness and much softer on the nose, all in all a more elegant drink.
The McWilliams Mount Pleasant Lovedale Semillon 2009 had great green fruits in the mouth, the 2005, still fruity, but softer on the palate and the 2001 really quite mellow. Similarly the Tyrrells Vat 1 Hunter Semillon 2009 had a crisp fresh acidity whereas the 1998 was an altogether finer wine because of the aging process.
Moving on I tried a red, Howard Park Cabernet Sauvignon, which was dry and fruity, a medium bodied wine that was nicely soft on the tongue. Whilst the producers had my attention they told me about one of their whites that they were particularly proud of, the Howard Park Riesling 2009 and insisted I should try it, well who was I to refuse? So pleased that I didn't as this little wine was bursting with fresh fruity flavours, beautifully dry , my initial reaction that it was like having a basket of fruits in your mouth. This was my favourite of the afternoon.
The Yalumba Signature Barossa Cabernet Sauvignon 2005 was medium to full bodied, soft but with a slight edge of dryness in its finish, the 1975 had aged beautifully much more refined than the 2005 the flavour lighter but still retaining its dryness in the finish.
Clearly I wasn't going to get through them all, particularly as I swallowed rather than spat, so before my senses became blurred I had to try the interestingly named d'Arenberg Dead Arm Shiraz and I tasted all five of the different aged wines, which were lovely, to me giving good red fruit on the palate, notably a cherry flavour came through for me.
So, I made it through the afternoon, judiciously choosing the wines that I sampled and avoiding the draw to try each of the years that the producers had lined up on their tables. I have to say, it was a pleasant afternoon and I got to taste some lovely wines, all from the south eastern corner of Australia.
My understanding is that many of these wines only retail in restaurants, but some can be bought direct through suppliers like Bibendum. So if this has aroused your curiosity about wines from this region, you can find out more about those I have mentioned here and more at www.australiasfirstfamiliesofwine.com.au where you can see producers talking about them.