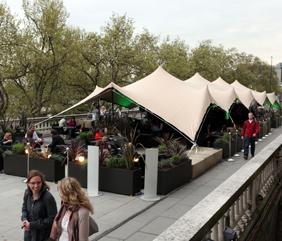 Slowly slowly I am catching the London-knowledge monkey. I'd never been to Somerset House, thus oblivious to its mass. Thankfully my ignorance did not necessitate guidance via my 'Maps' app on my clown phone. A more conversant helper pointed me in the correct direction and off I went, Tom Aitken food here I come!
Despite not having visited Tom's Kitchen restaurant in Chelsea, I am aware of its success and standing due to my peers. Tom's not an unknown chef outside of London having appeared on Saturday Kitchen. The sheer mention of his name made Minty B swoon at dinner the previous night. Aitken's instruction, in regards to River Terrace Café at Somerset House, was to create an informal, relaxed, al fresco-style menu, which he certainly delivered.
A discouraging incapacity to facilitate baggage storing was quickly forgotten by a complimentary glass of Lanson, (well, it was an absolute certainty to be a busy occasion, shouldn't be too hard on the PR). My accomplice for the evening was Big D, whose aptitude to forgo self-humiliation was exceptionally welcome and necessary to our cause of sampling canapés. As previously noted, the turnout for the night was guaranteed to be considerable, as is the case with launch nights, and this certainly packed more credentials than most.
Swarms of soaring seagulls spying supper was mirrored by the packs of ravenous guests hunting down samples from the impressive Tom's Taster Menu. Big D, famished from a hard days innings at the firm, shared my frustration at the lack of canapés making it through the filter of 'luvvies', subsequently embarking on a search and rescue mission. He reappeared clutching a single mini-burger that we decided to split. Baby burgers are becoming more and more familiar, but Tom's sweet onion relish and the quality of the cooking of the beef combine to formulate a tasty treat.
Growing concerns vis-à-vis our shortage of nourishment filled my mind, how can I comment on food that I have not tasted? Then all of a sudden, my saviour arrived in the form of Zo-to-the-E, without doubt the most helpful member of staff at the launch. With enthusiasm, intelligence and remarkable conversation skills she was able to manoeuvre her way through the gauntlet of guests and provide us both with one sample of each of the canapés.
The burger had made a good impression, but my real favourite was the rich, creamy chicken liver parfait with shallot chutney served on brioche, delightful. Coronation crab in baby lettuce leaves were pleasant, a sort of poppadom pizza was interesting, moist chicken skewers could have used a pinch more seasoning and the gazpacho is, as always, an acquired taste with this one proving to be one of the more enjoyable.
The River Terrace Café, which will be re-branded Tom's Terrace, is sure to be a sensational hit given its fantastic location with its extraordinary décor and canopy. Yet arguably the most influential reason for visiting and subsequent success is the involvement of Tom Aitken, whose reputation continues to snowball thanks to the high quality of his food.