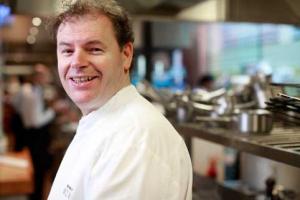 'They couldn't afford fresh herbs when I was at college,' says Chris Galvin, laughing hugely. 'They'd show us a drawing of the real thing and then give us some dried stuff!' He shakes his head still grinning at the memory, 'when I first worked at The Ritz aged 20 I couldn't believe it when I saw what a bunch of tarragon actually looked like fresh! Since then I've never lost the joy of going round markets, seeing fresh produce, imagining what I could do with it.'
Chris is, of course, together with brother Jeff, the man behind Galvin La Chapelle, Galvin at Windows, Galvin Cafe a Vin and the spot we're sitting in at the moment, Galvin Bistrot De Luxe, the place where it all started in 2005. It's a restaurant that smells right as soon as you walk in; it may be on Baker Street but get inside and you're in Paris for sure. There's garlic in the air, the soft murmur of French as the staff polish glasses ready for the lunch service, chefs are in the room eating their midday meal early and there's a clear sense of things being done right. It's the kind of eaterie that Chris, who is in his chef's whites himself today, despite having a large empire to run, loves with a passion.
France has always been his touchstone, 'When I was a lot younger I'd write to all the great French restaurants in France, asking if I could come work as a trainee. On holidays we'd always go to France and all the different regions where I'd go to the markets, get produce and cook.'
'
My dad would take us kids to France in our old Vauxhall Viva, we'd sleep in the car and I'd wake up enthralled at seeing peaches growing at the side of the road, grapes too, it was incredible. Later when I was twenty one I got one of the first Access credit cards and took myself through France running up a massive bill on the way and eating in as many places as I could. It took five years to repay that bill but it was worth it. Much as I like all kinds of cuisines, this is the one for me. France still holds me spellbound just as much as it did then and I feel I've spent a whole lifetime just scratching the surface of their cuisine.'
Chris's accent, younger sounding than his actual age, is tinged with Essex not French, and he speaks quietly but with the authority of a man who has worked his way up the hard way, the traditional way, from being pot washer to Antony Worrall Thompson, 'lovely man', via The Ritz, The Lanesborough, Terence Conran and The Wolseley to where he stands today, one of the most respected chefs in town.
'I've never really wanted a lot in life financially though,' he says leaning back on one of the restaurant's ironically rather luxurious banquettes. 'I just like doing what I do really. We even moved as a family from a great big house to a little one in a village in Essex for the quality of life and it was one of the best things I've ever done.'
With such a successful career, you wonder what was the impetus to go out and open his own place was; after all he wasn't short of well paid employment. 'Well I'd been cooking a lot of years, most chefs want their own place and I was no different, but you wonder if you'll ever have the money to do it. I got to the point where I felt I knew enough to do it and if I didn't I never would. Mind you, if I'd known then about the other struggles you have to face, the legals, the rules and regulations maybe I wouldn't have!'
'No, I woke up one day and literally looked at myself in the mirror and thought I can't work for somebody else anymore, I've got to go for it. I've always felt a kind of father and son relationship with my brother Jeff and I wanted him to come with me, and so we started looking in the back of Caterer Magazine for somewhere affordable. We almost made a big mistake buying a place in Fulham Road but a good friend Ken from Chapter One took a look at our business plan, saw we were about to go wrong and stopped us. His advice has never let us down and he's the third partner and he's been brilliant ever since.'
Bistro de Luxe was the place the Galvins started with a big loan, big passion and big ideas to do something perfect. From day one it was a success and as it starts to fill up for another packed lunchtime with the sort of customers every restaurant wants – regulars- it seems its allure hasn't faded. Where else in London could you see such a mix of people; young, old, groups plus single diners with their napkins fixed to their collars with the look of happy expectancy you only normally see in mainland Europe? The food is right, never more so than now in recessionary times. Who wants to see chef using tweezers to move a micro salad leaf into precisely the right spot on the plate? Not me and I suspect not many true foodies either. Big flavours banged out with precision by chefs who can work fast and work well, that's what we want and at the right price too which is another way the Bistro scores high points.
Chris gets much of his produce direct from France, sourcing for value and quality to keep his prices affordable. Meat comes in shoulders, legs, and other cheaper less fashionable cuts that have all the flavour. And he buys seasonally, hitting the good stuff when its in glut and so low priced.
'I certainly never for one second considered taking the money the easy way, using cheap produce for example. I believe in eating less but of best quality, doing the maths that way rather than serving loads of cheap food. Look at Iberia Ham, you certainly don't get a lot of that for your money, but its fantastic, an explosion of flavour. You feel you've treated yourself.'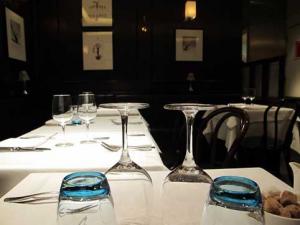 'Here is my style,' he says, 'I was never a fan of the big classical French cuisine, delicious as it could be, it was intimidating to the customer and in the kitchens the chefs didn't share, instead they maintained their hierarchy. That's not me. I try to mentor chefs for the long run, for them to get the skills, not be flash and then be gone a year later. I can tell a good chef from a simple show pony at interview. I don't want to hear so much about where they've worked before; I want to hear about how much they like giving, their generosity and how much they love cooking. You find chefs that have grown up in families where cooking is part of daily life, they have the appreciation and they learn quickly. Too many young chefs are concerned about how it looks on the plate; they don't get a spoon in there and taste it.'
He's dead right. Bistro de Luxe was ahead of its time and now seems to me more perfect than ever. A slice of France delivered by an Essex boy who knows how to cook food people want to eat. Sounds simple, but few get it right.
'When El Bulli opened,' Chris says, 'I rushed over there, knew immediately it was amazing and also knew I would never go back. It's not what I want to eat.'
Amen to that.