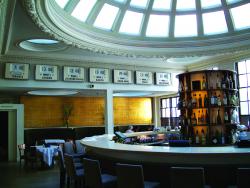 Until 29th September, the brasserie of city favourite, One Lombard Street is temporarily home to the original London Stock Exchange clocks.
Made by Italian manufacturers, Solari & Co., the clocks were originally installed in 1971 in the former LSE building, Threadneedle Street. There they hung until 1990. Each bears the name of a different country's exchange: Hong Kong, Johannesburg, London, Melbourne. New York, San Francisco, Tokyo, Toronto and Zurich.
Owner of One Lombard Street, Soren Jessen said that the clocks are 'truly a unique piece of history,' adding, 'When we were offered the opportunity to display them, I jumped at the chance.'
'It is a strange twist of fate to think that the clocks should end up hanging opposite their original home in the LSE nearby, once more watching over the City workers…'
Designer, Mark Lawson Bell rescued the clocks from an East London railway arch. He said: 'When I visited One Lombard Street, I had a light bulb moment. It really is the perfect location for the next stage of their journey.'
All of the nine timepieces will be auctioned at the premises with part of the proceeds donated to Cancer Research UK.