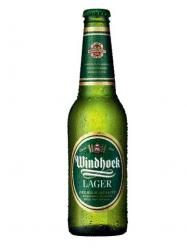 Thirsty work listeining to speeches from the chaps at Windhoek and the High Commissioner of Namibia.
No matter as there was plenty of Windhoek lager available to whet whistles and sooth sore throats.
The occasion was the celebration of of Windhoek Lager, Namibia's famous and finest (and possibly only) lager arriving in the UK. Brewed in and imported from Namibia, Southern Africa's great untainted wilderness of red and gold sand dunes.
The lager is authentically crafted according to Reinheitsgebot a 494 year old German purity law, using only three natural ingredients – malted barley,hops and water, to create a high quality, 100% pure beer.
Careful selection of ingredients and meticulous adherence to the Reinheitsgebot brewing process is the way it's made. Ben McFarland, award winning beer expert pointed out: 'The received wisdom says the hotter the country, the blander its national beer. Windhoek, brewed in Namibia where the mercury rarely drops below 20 degrees Celsius and the sun shines 300 days a year, is an exception to this rule. A great deal more aromatic than your average, archetypal African lager, Windhoek squares succulent malt sweetness with a snappy, crisp grassy hop character. Delicate and very drinkable."
Well known for its untouched contrasting landscapes and vast open wilderness, Namibia has been the home of Windhoek Lager since 1920. Pronounced 'Vint-hook', it means 'Corner of Wind', and is named after the capital city of Namibia. Windhoek Lager is one of the biggest selling beers in South Africa and is cherished among Namibians and South Africans for its quality and purity.
Collecting numerous awards on the way, including five gold international DLG (Deutsche Landwirtschafts-Gesellschaft 2005, 2007 to 2010) awards, Namibia Breweries' years of experience are reflected in the quality and commitment to producing a great tasting, great quality, pure beer. Windhoek Lager is best served icy cold and straight out of the bottle.
Windhoek Lager is available at Tesco, Morrisons, Asda and other major grocery retailers in the World Beers section from May at an RRP of £ 4.29 for a pack of 4 x 330ml bottles. Windhoek Lager will also be available in selected bars across the UK, so make sure you give it a try when out with friends.