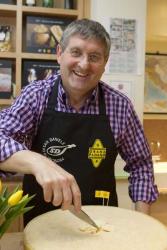 The recession is surely biting in Italy, but the true barometer of economic hardship is in the cheese sales. When these slump, says Carlo Canale from the Grana Padano cheese consortium, then the nation's really in trouble.
We're not quite there yet, thank goodness, and Canale has hawked several huge wheels of his cheese over to the UK for a masterclass in cooking with Grana Padano, a near cousin of Parmigiano Reggiano (parmesan – sssh!), and Prosciutto di San Daniele (no mention of Parma, please).
Along with the huge wheels of cheese, one 16 months old and the other 24, we have Giancarlo Caldesi in his eponymous central London cookery school, La Cucina Caldesi, with a leg of the San Daniele ham, a stack of recipes, a lot of enthusiasm for both products and plenty of flirtatious banter.
In fact, as Grana Padano is slightly cheaper than Parmesan, it may do better under tight economic circumstances. But it's a mistake to think it an inferior product. It is different: somewhat lighter and less salty, and made with partially skimmed milk rather than a mix of whole and skimmed milk.
It was first made over 1,000 years ago by monks and is still produced to exacting standards across five regions of northern Italy which stretch across the Po Valley: Piedmont, Lombardy, Veneto and parts of Emilia Romagna and Trentino-Alto Aldige. These standards are upheld to protect its PDO status – Protected Designation of Origin. There are so many imposters around in the world of fine foods that producers know the value of proving authenticity. For consumers, it means we don't waste pennies on sub-standard produce.
Caldesi has a great tip for handling the cheese: be gentle with it. It's good stuff, so when you come to removing the rind, don't carve off a hunk of the cheese with it. Lightly scrape away the outer rind with its branding, preserving everything else.
With the Prosciutto di San Daniele, also PDO, which is air-cured in the small town of San Daniele del Friuli, where the breeze from the Adriatic mixes with the dry, cold air off the Alps, it's easy to tell whether the ham is good or bad by sticking a spoon into its middle and smelling whether it is rancid or not.
It is less easy to carve it very thinly, as it is generally served. Developing the ham from a live pig from one of ten regions across northern Italy into the guitar-shaped leg takes 'pure, sheer, bloody passion" says Caldesi. 'A few people work 17 hours a day to produce a product like this, which is truly one of the best hams you will ever taste."
Whether it turns out to be your favourite ham or not, San Daniele is worth a try for its distinctive taste – very sweet, like rich summer peaches, nectarines and grapes rather than a cloying, perfumed sweetness, salty, and framed with a smear of smooth and plump fat – the sort and quality that women nearby in Harley Street are happily paying thousands to have injected into their cheeks.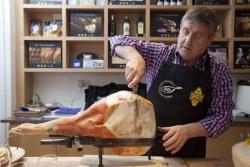 As well as getting a crash course on the history of Grana Padano and the San Daniele ham, we're here to explore some options for cooking with them. The default options for Italian ham and cheese are to serve the cured ham cold as an antipasti, and use the cheese for pastas and risottos.
The ham is great in pasta, crisped up as in these recipes for Baked Penne and Carbonara. For the cheese Caldesi has devised a quick soufflé-style bake, with eggs and cream. He serves this with ripe chopped and skinned tomatoes, to take the edge off the artery-curdling treat, which they just about manage.
To the sliced ham he adds an impromptu melon sorbet, which brings out the sweetness even more.
He has also devised a Risotto with Radicchio and Red Wine and Stuffed Savoy Cabbage Leaves. These are all very well, but I think I prefer both the ham and cheese messed about with as little as possible. The production processes are precise and laborious for good reasons, so there's little need to further complicate great food.
Spanish hams are rather taking all the glory in the UK at the moment, so it's interesting to see Italy sticking its boot into the mix again. And this is big business, of course: just under 4.7 million wheels of Grana Padano are produced annually, with a value of 1.476 million Euros. Just over 2.69 million legs of ham fetch 340 million Euros.
Most of this is sold in Italy, where good cheese is a store cupboard staple. Giancarlo Caldesi winces and sucks his breath in sharply at the memory of the Pecorino they had at home when they couldn't afford better. Giorgio Locatelli says there is a 'great divide" for Italian chefs between Pecorino and Parmesan, but for Caldesi the Grano Padano wins out.
And if it happens that you are looking for ways to economise on your expensive foods habit, this could be a good place to start: Grana Padano comes out a little cheaper than Parmigiano Reggiano, simply because it is produced across a greater area.