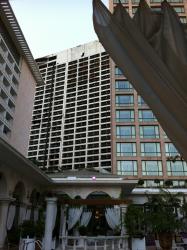 In the first part of his account, Douglas Blyde defies foreign office rhetoric to meet the stars of the Lebanese wine industry, beginning in the Bekaa Valley…
Bordered by Israel, the Golan Heights, Syria and sea, fertile Lebanon is home to four million Lebanese "and eight million strangers – poor Lebanon" says driver, Tony. A further 2m tourists usually visit annually, although potentially hyped statements from the UK foreign office ("high threat from terrorism") contributes to under-capacity at palatial hotels like Beirut's Phoenicia.
But I never feel in danger, because my brief – to cover the country's burgeoning wine industry – is blithe compared to correspondent Nicholas Blanford, who "investigates bomb blasts, interviews Hezbollah fighters and roams the wilds of the Bekaa." And the cool nerves of my hosts are as ceaseless as the moreish flow of wines and Arak across my palate.
Incense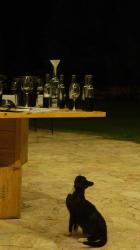 A foot-to-floor sprint from Beirut airport takes me to my first meal on Lebanese soil of just-plucked, fast-fried, stuffed Grenache leaves at a trestle at Château St. Thomas. Even brief black-outs as generators take-on the mantle of a stressed grid offer glimpses of constellations. The vantage: 1,000 metres above sea level in the Bekaa Valley.
Beneath feet tickled by grass and stroked by the weaving winery cat is the cellar. LED coloured rock walls naturally control humidity says winemaker, Joe-Assaad Touma. Back upstairs, black cat impishly pads table. I taste dry, richly-perfumed, welcoming rosé and plump Pinot Noir – Lebanon's first rendition of Burgundy's elusive grape. It adheres to the family motto: "Il faut en boire pour y croire" ("you have to drink it to believe it").
"Granddad, Saïd's been making Arak since age 12," says Joe-Assaad. As I crunch skewers of watermelon and something like Feta, Saïd pours the fennel-scented spirit from a height, combining it with water, gradually churning it opaque. Buoyed by the sturdy proof, I'm subsequently surprised to be guided to the family chapel. Honouring St. Thomas (Touma is Arabic for Thomas) whose official day, 6 October marks end of harvest, the modest structure is replete with a barrel for baptisms.
"People take part in BBQs and sleep in tents – but get up at 4am to pray," says Joe-Assaad of harvest festival. He presses an unconventional souvenir into my palm. Unmistakably incense. St. Thomas graces the front, while the words: "We implore you to plead for us with the merciful Lord, so that He forgives our mistakes and sins" line the back. Fortunately, wines need no pardon.
2010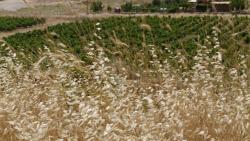 There are no other visitors in Château Kefraya's cinema. Cognac-born, and for part of the year, Cognac-distilling, Fabrice Guiberteau joined as winemaker three days after the 2006 "July war" supposedly ended. "A car exploded outside the winery door," he recalls, mental clip still touchable. "Welcome to Lebanon…"
A scarab scuttles over Guiberteau's Converse. Because Kefraya had to blast boulders in pursuit of Lebanon's largest vineyard, Guiberteau says it costs the same to make wine here as it does France.
He traces the compass: Damascus, Israel, Beirut and Balbeck are close. Although worried about "shells" and "very surprised" to see press here at this time (French and Italian writers were kidnapped the day before), Guiberteau admits an addiction. "I don't want to leave the casino when I'm still winning."
In 2009, Bacchus of critics, Robert Parker junior awarded Kefraya's 2009 Comte de M 92/100. Despite 2010 being a difficult year, with summer temperatures reaching 47 degrees Celsius in shade and rainfall limited to spring, Guiberteau insists his efforts assured a better rendition.
"Founder, Mr de Bustros started making his own wine during the 1979 civil war," says Guiberteau. Bustros, who believes fortune favours the brave, once said: "As far as I'm concerned, two words described that period: recklessness and rashness…" Indeed, despite wars and the fact half the population does not officially drink on religious grounds, the wine industry has grown from four producers in 1991 to over 40 today. Guiberteau oversees 2.35m bottles of Kefraya, experimenting ceaselessly, recently "reclaiming" variety, Carmenere from Chile, who claimed it from Bordeaux. In Cognac, he releases just 999 certified bottles of his own spirit, Autence.
After lunch, Guiberteau shares cigars from a humidor kept at home, "one minute from my office." Tensions feel far away. But, en-route to the next visit, car fanatic, Tony is less chipper. To our east, an army helicopter sweeps the snow-capped mountains. "My Alfa [Romeo] was destroyed in the 1980s by a missile, as was my father's Buick," he says, matter-of-fact. But the real wartime tragedy, beyond re-formable crumpled metal, which Tony remembers with misty eyes, was the death of his younger brother.
Dusty Treasure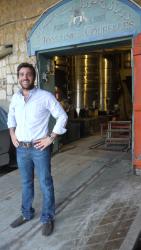 "I believe in, and love dust," says Faouzi Issa in his museum-like winery. Formerly one of four assistant winemakers at Château Margaux, Issa (also "against shaving") considers dust "a colony" for yeasts – "and yeasts are doctors." Domaine des Tourelles was founded by French engineer, Francois-Eugene Brun. While working on the Beirut-Damascus road, Brun found Chtaura's green valley reminded him of home in Southern France, and sowed roots in more ways than one.
In addition to hazy particles, Issa praises concrete tanks inherited when taking over in 2008. "There are few in Lebanon – but they preserve temperature."
In a little room where Brun was thought to attend his mistress, are banked bags of Syrian aniseed, essential to define Arak. "The Syrians threaten to put up the price twelve-fold," sighs Issa. Outside Issa becomes more positive of mind, showing village-like buildings, some of which are truly ruinous, which he plans to restore.
There are wild figs and a preserved, dead walnut amid wavy vines. Issa explains fresh green walnuts bring a bittersweet, velvety texture to Tourelles' liquor, Brou de Noix.
A small, locked door leads to a silent warren of clay churns –  an unconventional Solera. Here, spirit made by Tourelles' three, 150 year-old stills "improve" for five years minimum.
Later, under the white bloom of fireworks, which I initially take to be shells, we drink rosé with paella – Tourelles being Lebanon's first producer of pink in 1964. Issa wields an antique corkscrew to liberate aromatic white then flagship Syrah, Marquis des Beys, and ultimately 1976 Cinsault. He calls the latter "grape of Lebanon – now loved, but ripped up five years ago." Another writer describes it as "the magnifying glass of the soil."
Jasmine wafts the balmy air. On the roof of the main house, an enormous defunct satellite dish faces space. In a writhe of bushes, a German motorbike gradually rusts. In a country often characterised by conflict, the possibility of patina is treasured at Tourelles.
Structure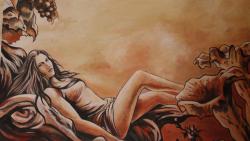 Eddy Naim's Qanafar winery, lighthouse logo of which references Babylonian merchant caravans, runs over three garages and "Blue Eyes", his uncle's old photography shop where film decays. Opposite, a German missionary school built for Palestinians quietens post playtime. New barrels awaiting wine absorb sunshine. "They're safe in this small village," says the former management consultant. "People would see who stole them."
Dramatically contrasting this Luddite site with its "dangerous looking mezzanine" is the new winery under construction up a rugged track. It will eventually run to 4,000 square metres, much of it subterranean. A response to the "complex" conferred by current space constrictions, Naim acknowledges it is overkill for his aim of making 200,000 bottles/year (only 16 hectares are currently reaped). While he can bottle 2,000 bottles/day at the garages, Naim will be soon be able to trounce that per hour.
Monolith-cum-bunker and yet to benefit from an architect, the erection irked locals who created a road block to halt inconsiderate truckers. To rectify, Naim "talked to the mayor" (a fanatic of Qanafar's wines).
The project of Qanafar was inspired by Naim's father who created moonshine from table grapes in the Saudi Arabia of the 1980s. The first commercial vintage of 500 bottles was released just eight years ago. Keeping it in the family, Naim's mother "is our salesperson" to restaurants, says Naim. Incidentally, his favourite, Teatro, Dubai offers no fewer than five cuisines from an "action" kitchen.
A tasting transpires in the studio of Qanafar's enologist, Hiba Salloum. It features a large, near pornographic Venus. Some pours are tough, but show progression – and Naim is charmingly keen to learn, demanding feedback so earnestly and suddenly that sometimes the glass hasn't reached my face. Amusingly, a "mystery wine," turns out to be a tart but refreshing nectarine homebrew.
Musar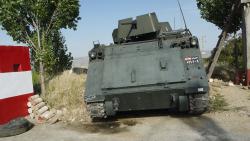 Although his first words are "we're going to have fun!" Serge Hochar of Château Musar appears uneasy. "I was forced to make wine by my father," he says after a tense speed-tasting. "At age 18, I wanted to be a monk and talk to no one." In appearance, Tony Bennett-meets-Jackie Mason, but unsmiling, Hochar, 74 is inviting of "stupid questions" but striking down of intelligent ones (and more interested in checking his iPhone than looking one in the eye).
We dine at the most uninspiring eatery all trip, a restaurant emanating reclaimed land and overtly sponsored by a whisky brand (three walls bear the familiar strider with stick). Desserts deflate in the corner.
Following a meeting with owner of a large Romanian winery and wine merchants, Hochar believes all roads lead to Romania. In fact, so excited is he by it, Asia and America, that he cares little about the market that has, for decades consumed his ferment in quantity. "Prices in the UK should go up by 40%!" he proclaims. "The UK is absorbing too much of our wines – 35 % of production."
We are divvied-up a few drops of volatile 1998, which Hochar believes is showing well,  and gutless 1974, apparently chosen by son, Gaston, "because it was the last vintage before the war." Melancholic a motive, I ponder. Both are "natural" according to Hochar, being "additive-free except for a little bit of sulphur (less than 10m/g)."
Hochar is not eating the fried fish he has prescribed us. "I just eat and live on air," he pronounces to the table while attempting to hand-feed a female journalist and Master of Wine student to my right.
Jeune 2011 has a pulse at least until it is poured into tragic-comic glassware. "I call it my fruit juice," says Hochar without irony, before moving on to whites. "Whites are for," he begins, while tapping his head, "not heart but head. They're not living things. They are the most terrible wines you could ever see."
Feeling like a mischievous schoolboy, I throw a curve-ball, suggesting Hochar's 2003 white would work beautifully with one of his hand-rolled Panatelas. "I will now call you my son," he responds, temporarily pausing his feeding of the journalist (much to her delight). And a cigar is duly passed my way. Incredulously, the match of sturdy tobacco and fruitless wine is mighty good.
Before sliding into burnished limo, Hochar sums up. "There is no subject as complex and difficult as wine." I want to disagree. Curmudgeonly winemakers, I just learnt, can be far trickier…
See part two of Douglas's account, where he visits wineries outside the Bekaa Valley, and gives intrepid travellers his recommendations on where to eat and where to stay.