26 William Street, Edinburgh EH3 7NH  www.aroomin.co.uk
Could this be the restaurant with the most names ever? For a week before coming here to eat, I was calling it'a room in','Teuchters' and'the roomy thingy'. I wonder if anyone else is confused, or is it just me and advancing years? Or probably just too lazy to get my head round a strange name.
The numerous names are a result of there being several'rooms in' in Edinburgh – there's one in the town and another in Leith – and the fact that the West End room is beneath a popular Edinburgh watering hole called Teuchters. And so to a lesson in Scots for those of you new to this kind of lingo. The Concise Scots Dictionary has Teuchter: n. a highlander, bumpkin (contemptuous) possibly from teuch adj. tough, persistent, durable, long-drawn out, protracted, tedious. Of people: rough, coarse. Of the weather: rough, wet and windy. And teuchle is n. a tough morsel.
But enough of words. Lets get to food. But first, we had to get through drinkers by the door to Teuchters. Lots of them. And they were loud. There was a certain irony in descending to A Room In, where calm and comfort prevailed, from the pub above, where the atmosphere and behaviour was distinctly Teuchter-like if the dictionary is to be taken literally. And what other way can a dictionary be taken?
No, really, I am going to get to the food now. A Room In describes itself as'charming and atmospheric'. And it really is. Leaving the baying mob above we entered an intimate space, the walls painted deep red, and with a mural depicting well-rounded, amorous folk on a long wall to our left, the evening looked promising. The staff were welcoming but not as keen on invading personal space as the jolly people in the painting, and while we got on with choosing from a small, but interesting menu, our table was discreetly stocked with home-made bread, two glasses of prosecco (from the restaurant's selection of 20 wines and'bubblies' by the glass) and a bottle of water.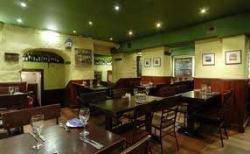 I started with one of the best soufflés I have ever tasted. The twice baked goats' cheese number with jalapeno jam was lighter than the early summer air we'd left outside with the drinkers, and the jam added heat, but not enough to make you catch your breath. Iain chose the smoked halibut with potato, dill, pea shoot and lemon salad which he reported as being a winning combination of smokiness, sweetness and textural contrast.
From goats' cheese to some Kintyre smoked cheddar, served alongside the slow roast pork belly in a puree of cauliflower – a great twist on cauliflower cheese – and with an accompaniment of Crabbies green ginger syrup and apple compote. This was cooked to falling-apart loveliness, with not a teuchle passing my lips.
Iain's grilled fillet of Scrabster rock turbot with kedgeree risotto and cucumber yogurt revealed its charms more slowly. While it wasn't quite love at first bite, with the finely cooked turbot seeming a little under seasoned, a forkful of the salmon and smoked fish kedgeree  put the world to rights, balancing things perfectly. Even the boiled egg in the kedgeree played a fulsome part in the mix.
My pudding was a sweet little concoction tasting just like tiramisu but billed as espresso and Drambuie soaked sponge fingers with marscapone and raspberry. Iain went for the cheeses. Always glass half full – and with a  Australian Riesling wine to wash everything down with, we didn't stint – Iain said the cheese board wasn't the'let down it sometimes can be' with six Scottish cheeses served at room temperature, a variety-pack of crackers and a good cut of deep amber quince jelly on the side.
To finish, we couldn't resist a Teuchter's drink. A Scapa malt for Iain –"16-yr Orkneys: hay, vanilla, nuts, peat, salty" – and a Springbank – "10-yr Argyll: coconut, passion fruit, salt – for me because it has the same name as a street in Hull, my home town. With 80 on the list, it seemed as good a way of choosing as any.
While having to negotiate the crowd of drinkers and smokers at the entrance to Teuchters and A Room In was not the best welcome to an evening of fine dining, we were charmed enough by the quirky cellar and its enthusiastic staff to forget about the rough edges. A smooth experience, with not a teuchle in sight.