Indian restaurants in Britain have definitely evolved over the last few years, with unique themed venues or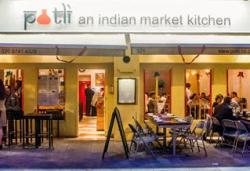 smart, boutique-like places popping up across the length and breadth of the country. Standard curryhouses have lost their charm and appeal, especially in London, and have made way for restaurants that attempt to carve themselves a certain niche.
Variously, this might mean a focus on Indian regional food, or the blending of Indian traditions with Western dining trends. Some are short-lived; some last; and some end up stale, losing their appeal after the initial hoopla. Some restaurants glorify their food with fancy names and believe their own hype. Some fall into the trap of dubbing their food'Indian tapas','fusion', or'bistro', calling it something it isn't, and should not pretend to be.
Amongst the clutter of these restaurants, there is one criterion which is severely missed. It is the simplicity of Indian cooking. And there is a huge market and appetite for it. I want to eat hearty Indian food that that goes deeper than simply satisfying my senses and induces goosebumps. Good Indian food should make you sweat, burp, and get those endorphins going. Good Indian food will find a way to make you smile, without ever having to force a rictus grin.
And, at Potli, I encountered this elusive experience. Owners Jay Ghosh and Uttam Tripathy describe the restaurant as an'Indian market kitchen'. In simple terms, it means they serve the sort of food served in India's bazaars. The duo opened Potli three years ago to showcase simple, flavoursome, honest Indian food, and that is exactly what I got. Potli delivered what it promised, unlike so many other restaurants.
My visit coincided with the unveiling of Potli's summer menu – a breath of fresh air, where the food actually lived up to the flowery menu descriptions. The menu adventurously promised delicacies from various regions of India; from the tandoors of Aminabad in Lucknow, to the 'thelas' of Chowpatty Beach in Mumbai, to dishes from the aromatic lanes of Kolkata.
Food was frequently spot-on, making my stomach and face smile in tandem. One of my favourites was the irreverently-named'Chicken 65′, the flavour heavily reliant on a sharp taste of black pepper and green chilli. This is classic Indian fast-food, the tasty Southern-fried appetizer from the state of Tamil Nadu a delicacy in its own right. For the uninitiated, Chicken 65 is part of long line of Indian street dishes that are largely underrated and rarely seen outside the country.
Thanks to Potli, this dish is slowly gaining an audience in this part of the world. As are the restaurant's kebabs and tikkas. These were a pleasant surprise. Most kebabs in British'Indian' restaurants are undersized, but Potli's were not pint-sized. These were seriously chunky, and extremely tasty, their flavours derived from the magic of a sturdy tandoor and the correct marination.
I missed the chance to pump the chef on his ingredients and technique, but I will go again and try and work them out. If I'm lucky, I might even persuade Potli's chef to give me a crash course. The shammi kebab was particularly heavenly; it tasted exactly like a shammi kebab should. And, in the proper manner, it had a lovely fluffy egg omelette coating.
Spot on, Potli. As was the kachi mutton biryani, which I could have eaten for the entire duration of dinner. The Rattan Manjusha – rich paneer kofte stuffed with nuts – displayed the sheer versatility of Potli's repertoire. Another gem is the raw green papaya pickle. I have never seen this served in a restaurant in the UK. This was special stuff, taking me right back to my childhood where my neighbours would send us a bottle of freshly-made papaya achaar every few months.
Potli served up yet more nostalgia in the form of marvellous masala chai. It has become hip for Indian restaurants to use those glass tumblers, and Potli subscribes to the trend. But the substance in this stylish glass was perfect in my eyes. The Hindi term'kadak', loosely meaning 'powerful', 'crispy' or'noisy', is applied to superior chai with this kick and aroma– and this was worth shouting about. The whole meal made me smile in more ways than one. I'll definitely be back at Potli soon, and next time I might just start with the chai.