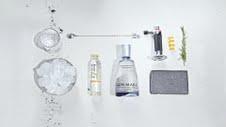 Plankton anyone? Highly acclaimed Spanish chef Ángel León joins Nuno Mendes at Viajante to create eight-course tasting menu, in partnership with Gin Mare 
Attend a unique gastronomic experience at Viajante this summer with an eight-course 'Taste of the Sea' themed menu. Designed to deliver an exceptional selection of flavours the blind tasting menu will take guests on a unique culinary journey.
Just voted Best Chef Award 2012 at the Spanish Royal Academy of Gastonomy, renowned chef Ángel León of award-winning Aponiente restaurant in Spain will be designing the menu with Nuno Mendes, head chef at Michelin starred Viajante. Telling a story through food, Ángel will be joining Nuno at Viajante to guest chef from the open kitchen on the evening of Wednesday 7th August 2013. 
Whilst the dishes will remain a surprise – although it is known that Plankton will be involved – guests can get excited in advance about the range of Gin Mare serves on offer. On arrival guests will be able to enjoy a signature Gin Mare twist on the classic G&T cocktail in the The Viajante bar. A 'sea themed' Gin Mare cocktail, created by Ángel León himself, will be offered as an aperitif. During the meal, guests will also be served a bespoke Gin Mare Plankton cocktail paired with one of the courses, complementing the gin's botanicals of rosemary, arbequina olive, basil and thyme. 
Gin Mare (pronounced mar-ray) is a combination of ingredients crafted to capture the essence of an epicure's Mediterranean. Each botanical is steeped during a period of more than twenty-four hours and then individually distilled to create a versatile full-bodied gin with notes of juniper, balanced with aromas of tomato plants and olives.
Tickets for the Vijante 'Taste of the Sea' tasting menu are £135 per person, to book please contact Viajante on 020 7871 0461.