'The wall covering is recycled ', says Sam Harrison showing off his new underground bar beneath Harrison's in Balham.
The same might be said of his air-conditioning, it's possibly been recycled from a frozen pea factory. It's up in the 30s outside but standing in front of the icy blast from the monster aircon I can feel my extremities going numb and I've barely even begun drinking.
Girls with bare shoulders are looking a bit Shackleton In His Last Days too, so the barman obligingly turns the power down and everything gets far more comfortable.
Comfortable too are the leather banquettes in this converted storeroom now resembling a hidden New York speakeasy with its low lighting and rather stylish design.The lamps on the walls, which I call Normans, after Russell Norman of Polpo who I think was the first restaurateur to bring them to London,  deliver a warm, old fashioned, filament light which is so much better suited to a cosy bar than the terrible eco-bulbs we are now all forced to buy.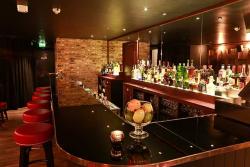 It's compact this new bar but not cramped, although large parties could easily dominate the room if there wasn't a no standing policy in force, and tables can be reserved to ensure a seat. The cocktail list is redolent of prohibition  USA and of  F Scott Fitzgerald swapping finely-honed epigrams with Zelda, but the food is on today's hit list of must haves.
Taught skinned  mini chorizos from Brindisa sizzle and spit and can deliver a jet of irremovable paprika tinted oil to your best shirt if you aren't careful, but are well worth the risk. Padron Peppers nicely blistered and studded with Maldon Sea Salt, are sweet but on this occasion none leap out to sear the synapses, the beauty of padrons being that Russian roulette gamble with chili.
Wild Boar Scotch Egg shows there is still mileage in Scotch eggs, the belisha beacon yolk oozes into the boar flesh, while the lamb and chorizo mini burgers are just the size a burger should be; easy to eat and not a slobbering great mess of meat and bread to cram into your mouth and stuff up your arteries.
The cocktails are fun and refreshing, almost as much as that aircon, and the bar a good  place to have a little livener before eating upstairs. As it's on my route from station to home I can see myself being easily diverted down there again on a passing whim. All in all Downstairs at Harrison's another plus to being in Balham.
The new basement cocktail bar is open from 6pm Tuesday to Saturday